Current Trends in Dynamical Systems and the Mathematical Legacy of Rufus Bowen
Start Date:

07/30/2017

End Date:

08/04/2017
Location:
University of British Columbia
Topic:
The conference will focus on areas of current interest that are broadly related to the work of Rufus Bowen.
Description:
In addition to several invited talks, there will be other opportunities for participants to contribute: a poster session and at least one session on progress on a list of 157 open problems from Rufus Bowen's notebook. The organizers will soon post a website (Rufus Bowen Notebook) that contains statements of each problem with a feature that allows people to comment on progress.
Confirmed Speakers:
Alex Blumenthal, university of Maryland 
Lewis Bowen, University of Texas 
Jérôme Buzzi, Université Paris-Sud, Orsay
Jean-René Chazottes, CPHT, École Polytechnique
Vaughn Climenhaga, University of Houston
Ursula Hamenstädt, Universität Bonn
Mike Hochman, Hebrew University of Jerusalem
Anatole Katok, Pennsylvania State University
Ronnie Pavlov, University of Denver
Yakov Pesin, Pennsylvania State University
Mark Pollicott, University of Warwick
Ian Putnam, University of Victoria
David Ruelle, IHES
Omri Sarig, Weizmann Institute
Caroline Series, University of Warwick
Steve Smale, University of California at Berkeley
Masato Tsujii, Kyushu University
Benjamin Weiss, Hebrew University of Jerusalem
Lai-sang Young, Courant Institute, NYU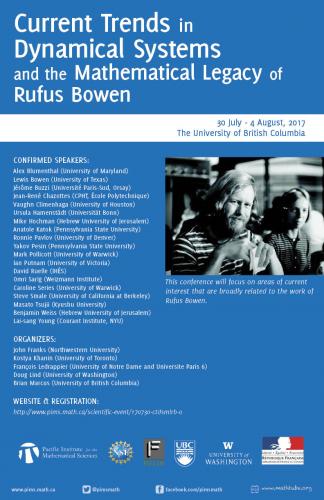 Conference Format:
We will begin with an optional "meet and greet" on the evening of Sunday July 30th (this is not dinner, bbut an informal way to say hello over small nibbles and bites). The program for Monday July 31, to Friday August 4 will consist of 19 talks, a poster session, problem sessions focused on Rufus' Notebook, a Rufus remembrance session, some catered lunches and a hike on Wednesday afternoon. The conference will end on Friday at 5PM.
Conference Program
The Rufus Bowen Notebook 
The Bowen Notebook is dedicated to the memory of Rufus Bowen (1947-1978). On it, you will find an interactive interface to the 157 mathematical problems he left behind in his notebook. The mission of this site is to continue the discussion of these problems by allowing users to enter comments. Each problem has been deciphered and transcribed and is presented along with comments on its current status. 
Participant Guides 
Participant Guide #1: Welcome to Vancouver 
Participant Guide #2: Speakers and Titles
Participant Guide #3: Thank you! 
UBC Campus Map
Campus Map available here 
Presentations
PDF versions of slides used during the conference are posted below. Please note that some of the presentations were made using the blackboards, videos of these (and other) talks will be linked here when they are available.
Monday

Steve Smale
Anatole Katok

Tuesday
Wednesday
Thursday
Friday
Organizers:
John Franks, Northwestern University
Kostya Khanin, University of Toronto
François Ledrappier, University of Notre Dame and Université Paris 6
Douglas Lind, University of Washington
Brian Marcus, University of British Columbia
Other Information:
Conference Dates & Location:
July 30th - August 4th, 2017 
Main Meeting Venue:
Monday July 31- Friday Aug 4
Earth Sciences Building
2207Main Mall, UBC. V6T1Z4
Registration:
Registration for this event is now closed as we have reached capacity. 
We do however have some limited space available for the Rufus Bowen Lunch on Wednesday August 2nd. This is open to spouses and accompanying guests of registered particpants. Particpants can scroll to the bottom of this page and register their guests for this social event.
RB Conference Lunch
Aug 2, 2017 $60CAD
12:30pm
UBC Alumni Centre 
Should you have any queries about the registration process, please email the PIMS Program Manager at ruths@pims.math.ca
Accommodation:
We have made a group reservation for the Rufus Bowen Conference at Carey Centre, Totem Park and  at Ponderosa Residence
Shared Apartment Suites and Totem Park Dorm Rooms:  Sold out!
Ponderosa Studio Suites: $136CAD per night before taxes, breakfast included, max 2 guests per suite. This is a private suite with double bed, ensuite washroom, flat-panel TV, telephone, WiFi and fully-equipped kitchen. To book the studio suites at the Bowen rate, please click here . 
Other  available accommodation options, but not currenty blocked for this conference:
Carey Centre Rooms: Twin and queen rooms with or without TV. Price ranges from $95- 103 before taxes. Breakfast is available upon request for $9 per person only. Click the booking link here and select the check in and check out dates to search for availability. 
St. John's College UBC: Single room with a twin bed and private bathroom, no TV. Summer rates begin at $85.5CAD per night. Rooms based on availability and at market rate. Check dates and pricing here
Application for Funding & Call for Poster Presentations 
Requests for travel funding and poster presentations are now complete
Local Information:
Local Transit: UBC is transit friendly and Bike friendly. Check information on arriving on campus by transit and getting transit tickets here; rent-a-bike to get round campus here.
Taxis: Taxis are available outside UBC Ponderosa Residence or by phone at 604-681-1111
.
Local Weather: Check current conditions here.
Food Outlets and their hours of operations: On Campus; Off campus such as UBC Village; Point Grey Village and Westbrook village offer an array of restaurants and food outlets.
On Campus Activities: UBC recreation and UBC's top attractions.  
Contact Us: 
For logistical queries or any other concerns, please contact the PIMS Program Manager at ruths@pims.math.ca.
Final Scientific Report available here
Sponsor: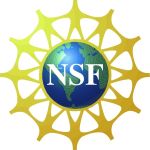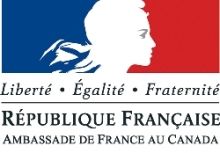 This conference is also supported in part, through a generous contribution by Misha Brin.