PIMS Workshop on Mathematical Sciences and Clean Energy Applications
Start Date:

05/21/2019

End Date:

05/24/2019
Location:
University of British Columbia
Description:
To avoid the worst consequences of climate change, the energy chain of the global economy must be drastically decarbonized. This exploratory workshop will build a greater dialogue between those in the mathematical sciences and the clean energy sector. The workshop will include: first-hand accounts of mathematical scientists working in clean energy projects, kind and gentle introductions to clean energy systems and mathematical tools, graduate student presentations, and panel discussions on topics such as challenges in clean energy. The goal of the workshop is to inspire interest in further exploration and to nucleate collaborations between mathematical scientists and practitioners in clean energy. Mathematical scientists with no previous experience in
clean energy research are welcome.
Session Topics:
1. Wind
2. Energy Market Modelling
3. Water
4. Optimization
5. Solar
6. Storage and Distribution
7. Electrochemical 
8. Energy policy 
Download the event poster below!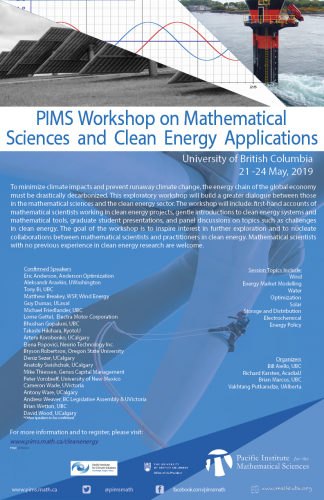 Background Document:
More information  on this meeting, and its goals can be found here.
Program Overview:
The workshop schedule is available here. 
Photo Gallery
Photos for this event are available here. 
The following speakrs have agreed to share their presentations:
Lunch and Learn Presentations: 
Organizers:
Bill Aiello, UBC
Richard Karsten, Acadia University
Brian Marcus, UBC
Vakhtang Putkaradze, UAlberta
Pacific Insitute for the Mathematical Sciences 
Other Information:
Conference Dates & Location:
May 21- 24, 2019
Main Meeting Venue:Earth Sciences Building
2207Main Mall, UBC. V6T1Z4
Call for poster presentations:
The call for poster presentation is now closed.
Applications for funding (travel and accommodation):

Applications for funding are now closed. 
Accommodation:
Accommodation for this event is now closed.
Industry Sponsors:
If your company would likle to sponsor a component of the program orhost an infromation table during the event, please contact Ruth Situma. 
Registration: 
Registration for this event is now closed.
Online Security:
PIMS will not contact you to sell travel and accommodation packages for this event. Please be vigilant should you receive any emails, calls or text messages claiming to assist you in making reservations for a PIMS event. Do not provide any personal information such as a social insurance number, credit card number, bank account number, or passport number as these requests are fraudulent in nature. 
For queries or additional information, please contact Prof. Brian Marcus 
Sponsor: