PIMS Workshop on Mathematical Sciences and Clean Energy Applications
Start Date:

05/21/2019

End Date:

05/24/2019
Location:
University of British Columbia
Description:
To avoid the worst consequences of climate change, the energy chain of the global economy must be drastically decarbonized. This exploratory workshop will build a greater dialogue between those in the mathematical sciences and the clean energy sector. The workshop will include: first-hand accounts of mathematical scientists working in clean energy projects, kind and gentle introductions to clean energy systems and mathematical tools, graduate student presentations, and panel discussions on topics such as challenges in clean energy. The goal of the workshop is to inspire interest in further exploration and to nucleate collaborations between mathematical scientists and practitioners in clean energy. Mathematical scientists with no previous experience in
clean energy research are welcome.
Confirmed Speakers:
Eric Anderson, PhD, Head of Technology, Anderson Optimization
Aleksandr Aravkin, Assistant Professor of Applied Mathematics, UWashington
Tony Bi, Professor of Chemical Engineering and Associate Director, Clean Energy Research Centre, UBC
Matthew Breakey, P.Eng, Senior Specialist, WSP, Wind Energy, Nanaimo, BC
Curran Crawford, Associate Professor of Engineering, UVic
Matthew Davison, Dean and Professor of Statistical and Acturial Sciences, University of Western Ontario
Guy Dumas, Professor of Mechanical Engineering, Director of CFD Laboratory LMFN, ULaval
Nima Fathi, Assistant Professor, University of New Mexico
Michael Friedlander, Professor of Computer Science and Institute of Applied Mathematics Director, UBC
Lorne Gettel, PhD, Co-founder and President,  Electra Motor Corporation
Bhushan Gopaluni, Professor of Chemical Engineering, Associate Dean of Applied Science, UBC
Stéphane Goute, Université Paris 8
Takashi Hikihara, Professor of Electrical Engineering, Advanced Electrical Systems Theory Lab, KyotoU
Clayton Hiles, MASc, P.Eng Senior Research Engineer,Pacific Regional Institute for Marine Energy Discovery (PRIMED) & Institute for Integrated Energy Systems (IESVic
Rajiv Jaiman, Professor of Mechanical Engineering and Seaspan Shipping Chair, UBC
Younghun Kim, Director of Data Science, Utopus Insights
Artem Korobenko, Assistant Professor of  Mechanical and Manufacturing Engineering, UCalgary
Justine McMillan, Scientist, Rockland Scientific International
Iain Moyles, Department of Mathematics and Statistics, York University
Elena Popovici, PhD, Senior Computer Scientist, Neurio Technology Inc.
Deniz Sezer, Associate Professor of Mathematics and Statistics, University of Calgary
Blake Shaffer, Postdoctoral Fellow, Stanford University
Akeel Shah, School of Engineering, University of Warwick
Taraneh Sowlati, Professor of Forestry, UBC
Pang-Chieh Sui, PhD, Professor of Automative Engineering, Wuhan University of Technology
Anatoliy Swishchuk, Professor of Mathematics and Statistics, UCalgary
Mike Thiessen, Manager, Sustainable Research, Genus Capital Management
Pascal Van Hentenryck, Professor of Industrial and Systems Engineering, Georgia Tech
Cameron Wade, PhD Student, UVictoria
Antony Ware, Professor and Head of Mathematics and Statistics, UCalgary
Andrew Weaver, Member of BC Legislative Assembly and Professor of Earth and Ocean Sciences, UVictoria
Brian Wetton, Professor of Mathematics, UBC
David Wood, Schulich Chair in Renewable Energy, Professor of Mechanical and Manufacturing Engineering, UCalgary
Session Topics:
1. Wind
2. Energy Market Modelling
3. Water
4. Optimization
5. Solar
6. Storage and Distribution
7. Electrochemical 
8. Energy policy 
Download the event poster below!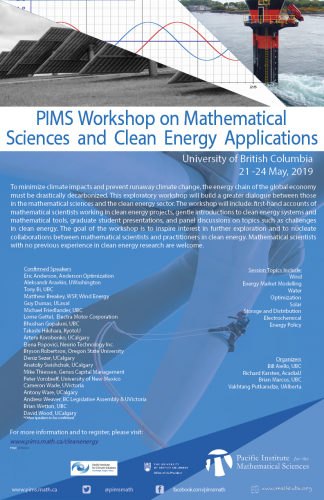 Background Document:
More information  on this meeting, and its goals can be found here.
Organizers:
Bill Aiello, UBC
Richard Karsten, Acadia University
Brian Marcus, UBC
Vakhtang Putkaradze, UAlberta
Pacific Insitute for the Mathematical Sciences 
Other Information:
Conference Dates & Location:
May 21- 24, 2019
Main Meeting Venue:Earth Sciences Building
2207Main Mall, UBC. V6T1Z4
Call for poster presentations:
The call for poster presentation is now closed.
Applications for funding (travel and accommodation):

Applications for funding are now closed. 
Accommodation:
A discounted room block for the conference is now available at UBC ponderosa Studios and premium single rooms in the Gage Tower apartments. 
Ponderosa Studios: Private studio room with double bed in bed sitting room with phone and internet. Sleeps one or two people. TV, washroom with shower (no bathtub). Fully equipped kitchen. Suite does not have air conditioning. Rate: $149/night
Premium Single Rooms at Gage Towers: this room option is now fully booked.
Follow the link below to book your accommodation. 
Industry Sponsors:
If your company would likle to sponsor a component of the program orhost an infromation table during the event, please contact Ruth Situma. 
Registration: 
Participants should scroll to the bottom of this page and click the Sign up/Login button to register (You will be required to create a PIMS account if you do not already have one). Registration fees cover morning and afternoon coffee breaks as well as a particpant package and program*.
Early Bird Registration Fees: Until March 25, 2019, 4:00pm PST
Current graduate students & Postdoc fellows: $75
Faculty & industry particpants: $125
*No registration required for confirmed speakers.
Regular Registration Fees: After March 25, 2019, 4:00pm PST
Current graduate students & Postdoc fellows: $100
Faculty & industry particpants: $175
*No registration required for confirmed speakers.
Online Security:
PIMS will not contact you to sell travel and accommodation packages for this event. Please be vigilant should you receive any emails, calls or text messages claiming to assist you in making reservations for a PIMS event. Do not provide any personal information such as a social insurance number, credit card number, bank account number, or passport number as these requests are fraudulent in nature. 
For queries or additional information, please contact Prof. Brian Marcus 
Sponsor: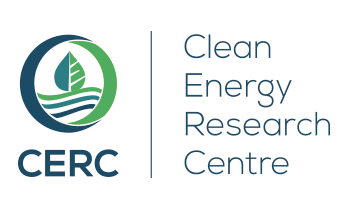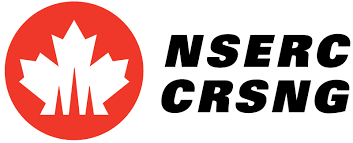 Signups require a PIMS account
Please
login
with PIMS then return to this event page and click the "Sign Up" button.