FACTS Public Panel on Climate Change
Location:
University of British Columbia, Robson Square, Vancouver
Topic:
Tackling Climate Change and the Just Transition to Renewable Energy
Description:
Join us on July 27, 2023 for an afternoon and evening of discussion and learning on Tackling Climate Change and the Just Transition to Renewable Energy.
This free two-part event is part of a series of French-Ameri-Can Climate Panels (FACTS) on climate change that have been held throughout North America in the past decade. Jointly sponsored by PIMS and the French Embassy of Canada, this panel features a diverse group of eminent Canadian and French leaders representing climate science, renewable energy, economics, public policy, and Indigenous affairs.
The event is organized in two sessions. Topics may vary per session and participants can choose to attend either session or both.
Session 1 (2:30pm): Special session on climate change with talks by panelists.
2:30pm: Arrivals and session introduction
Rene Aid: "More electricity demand response for less carbon emissions" 
Seth Klein: "Mobilizing Canada for the Climate Emergency" 
Andrew Weaver: "Privilege, agency, and the climate scientist's role in the global warming debate"
Judith Sayers: TBC
Gael Giraud: TBC
4:00pm: Session break
5:30pm: Conclusion, refreshments
Limited seating. Please register through eventbrite.
Session 2 (5:30 pm): Public panel discussion.
5:30pm: Arrivals, networking and refreshments.
6:15pm: Panel Discussion with Q and A.
8:15pm: Concluding remarks, refreshments and meet with panelists.
Limited seating. The event is free to the public, though registration is required. Please register through eventbrite.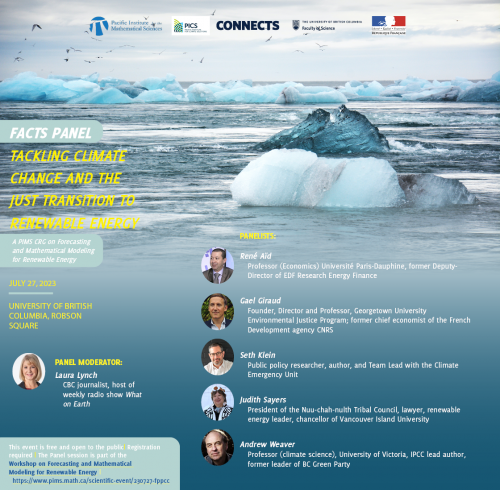 Panel Moderator:  
Laura Lynch, CBC journalist, host of weekly radio show What on Earth.
Panelists:
René Aïd: Professor (Economics) Université Paris-Dauphine, former Deputy-Director of EDF Research Energy Finance
Gael Giraud: Founder, Director and Professor, Georgetown University Environmental Justice Program; former chief economist of the French Development agency CNRS
Seth Klein: Public policy researcher, author, and Team Lead with the Climate Emergency Unit.
Judith Sayers: President of the Nuu-chah-nulth Tribal Council, lawyer, renewable energy leader, chancellor of Vancouver Island University.
Andrew Weaver, Professor (Climate science) University of Victoria, IPCC lead author, former BC MLA and leader of BC Green Party.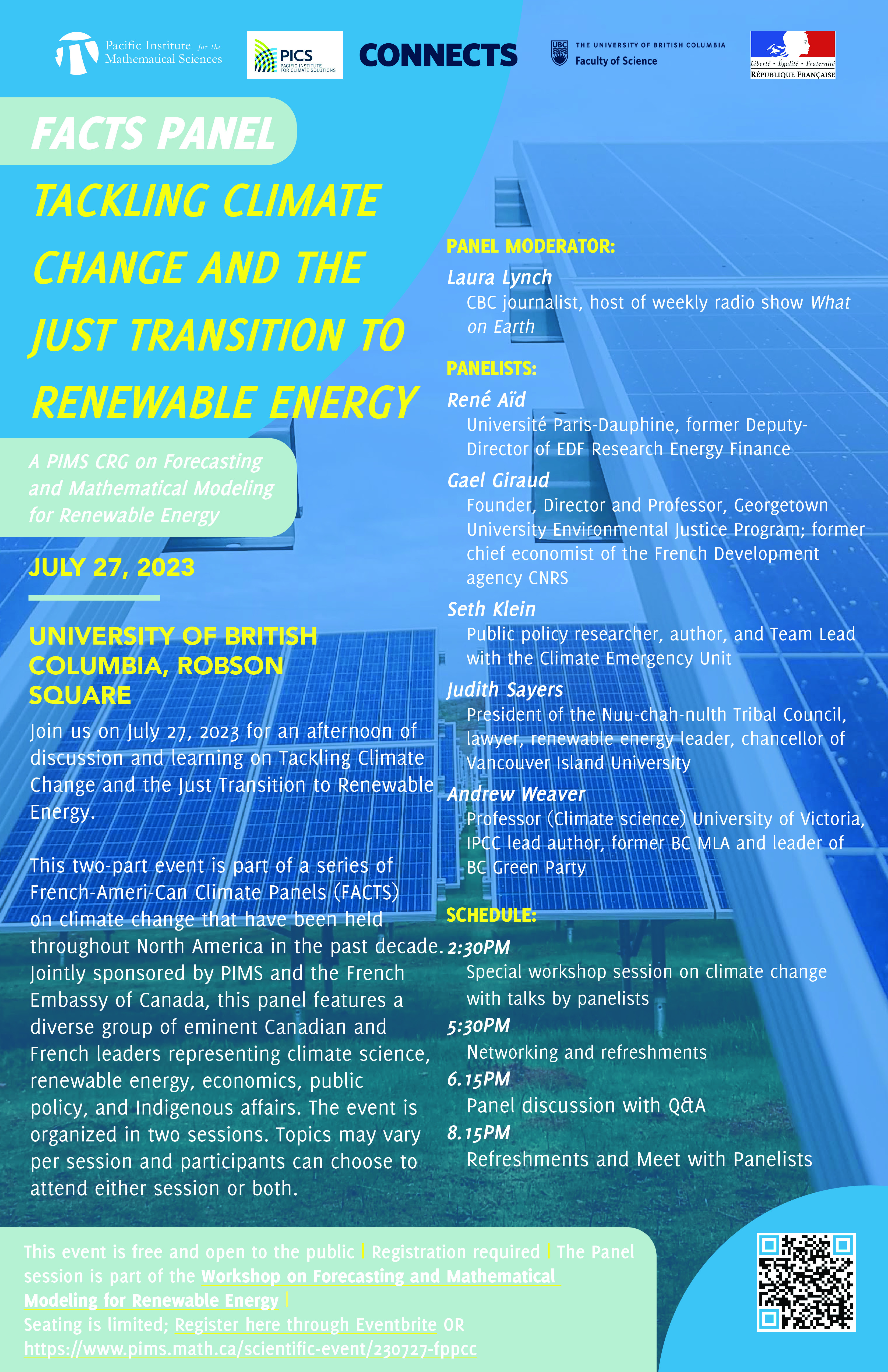 This panel is part of the Workshop on on Forecasting and Mathematical Modeling for Renewable Energy and Public Panel Discussion on Climate Change