Workshop on Forecasting and Mathematical Modeling for Renewable Energy and Public Panel Discussion on Climate Change
Start Date:

07/26/2023

End Date:

07/28/2023
Location:
University of British Columbia
Description:
Organized by the PIMS Collaborative Research Group on Forecasting and Mathematical Modeling for Renewable Energy, this workshop brings together practitioners from mathematics, statistics, computer science, engineering, atmospheric sciences, and economics to showcase a wide spectrum of quantitative research problems to support the design and operation of wind and solar power systems and their integration to the power grid and electricity markets. Presentations cover a broad range of space and time scales, from individual wind turbine scale to provincial scale and from minutes to years. 
Workshop Sessions (and Plenary Speakers):
July 26: 
@UBC Main Campus: Forecasting and Decision-making for Renewables 
July 27: 
@UBC Main Campus: Modeling Electricity markets with Renewables
@UBC Robson Square: 
2:30pm: Special session on climate change with talks by panelists
5:30pm: FACTS Public Panel discussion on Climate Change: See details below.
July 28:
@UBC Main Campus: Mathematical Models of Atmosphere, Turbulence and Wind Farms
Also featuring talks by:
Carsten Abraham (ECCC)
Aziz Ezzat Ahmed (Rutgers)
Werner Antweiler (UBC-V)
Larry Berg (PNNL)
Joshua Brinkerhoph (UBC-O)
Jethro Browell (U Glasgow)
Roxana Dumitrescu (King's College London)
Nina Effenberger (Tubingen)
Tianxia Jia (Calgary)
Michael Ludkovski (UCSB)
Mike Optis (Veer Renewables)
Huyen Pham (Paris)
Roland Stull (UBC)
*** 
Public panel discussion on Tackling Climate Change and the Just Transition to Renewable Energy at UBC Robson Square, Thursday evening, July 27, 2023
Jointly sponsored by PIMS and the French Embassy of Canada, this panel features a diverse group of eminent Canadian and French leaders representing climate science, renewable energy, economics, public policy, and Indigenous affairs. This panel is part of a series of events, hosted by the French embassies in Canada and the United States, called FACTS (French-Ameri-Can Climate Talks).
Register for the panel through the page here:
https://www.pims.math.ca/scientific-event/230727-fppcc
Panel Moderator:  
Laura Lynch, CBC journalist, host of weekly radio show What on Earth.
Panelists:
René Aïd, Professor (Economics) Université Paris-Dauphine, former Deputy-Director of EDF Research Energy Finance
Gael Giraud, Founder, Director and Professor, Georgetown University Environmental Justice Program; former chief economist of the French Development agency CNRS
Seth Klein, Public policy researcher, author, and Team Lead with the Climate Emergency Unit.
Judith Sayers: President of the Nuu-chah-nulth Tribal Council, lawyer, renewable energy leader, chancellor of Vancouver Island University.
Andrew Weaver, Professor (Climate science) University of Victoria, IPCC lead author, former BC MLA and leader of BC Green Party.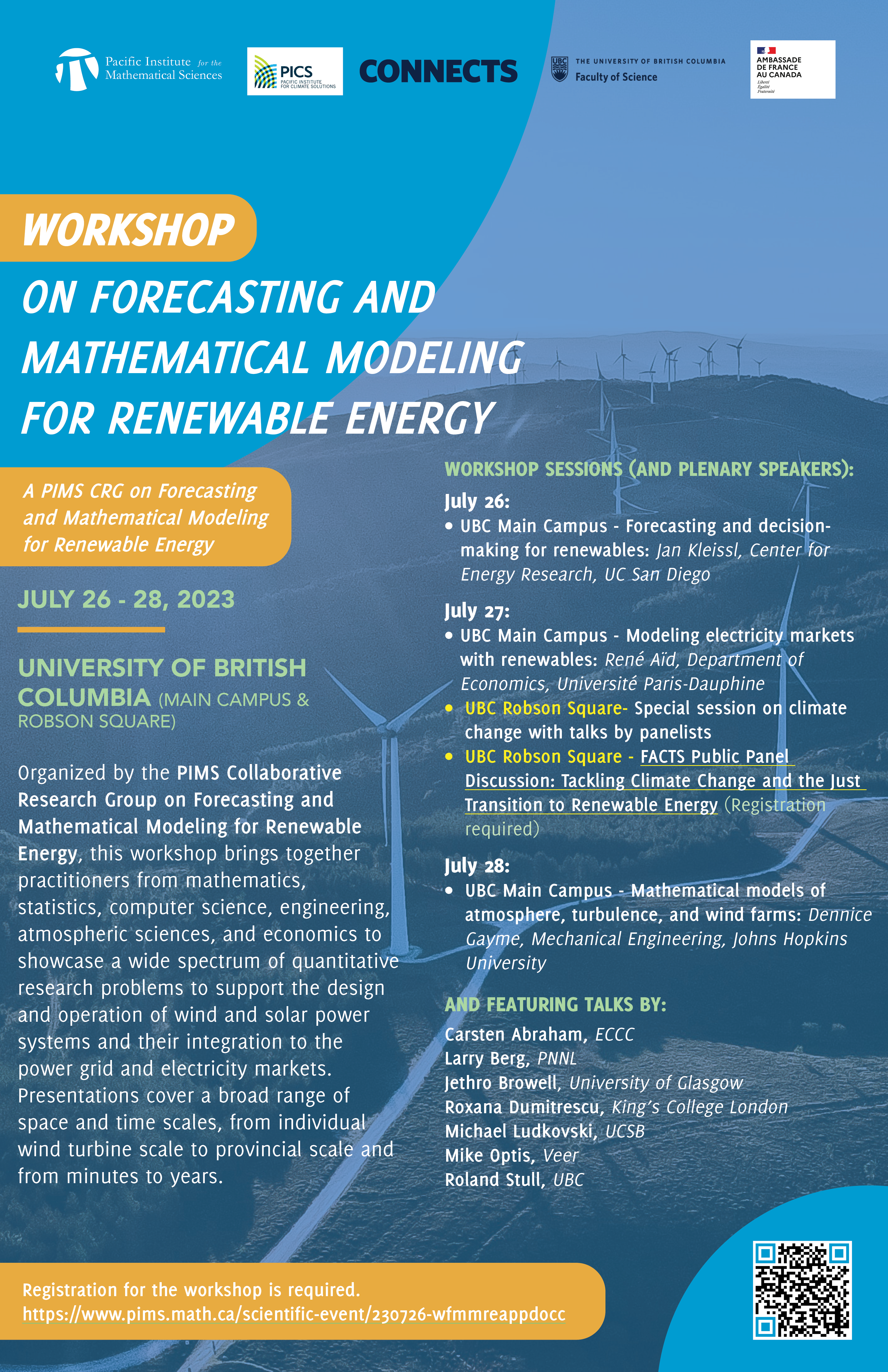 This event is part of the 2023 PIMS Action on Climate Thematic Summer (PIMS-ACTS).
Other Information:
Applications for funding:
Some funding is available for students and early career researchers. Please apply by June 10, 2023 here.
Abstract submissions for posters:
The organizers are accepting abstracts for posters. Please make submission here by June 10, 2023.
Workshop Registration for in-person participants:
Participants are required to pay minimal registration fees in order to secure a spot at the workshop (this also includes the Thursday sessions at UBC Robson Square and you should not have to register through Eventbrite). Please register below. You will be required to create a PIMS account and then return to this page to complete the registration. 
$30 CAD Students and Early Career Researchers
$45 CAD Faculty
$55 CAD Industry 
How to register:
Participants should scroll to the bottom of this page and click the Sign up button.
Create your PIMS account and fill in the demographics.
Return to this page and click the Login button to register.
Workshop Registration for online participants: 
Participants wishing to attend the workshop online (only sessions at UBC-Vancouver) can register directly to receive a meeting link here.