Conference on the Mathematics of Sea Ice
Start Date:

09/24/2015

End Date:

09/26/2015
Lecturer(s):
Confirmed Speakers
Dorian Abbot (University of Chicago, USA)
Daniel Feltham (University of Reading, UK), Plenary
Daniela Flocco (University of Reading, UK)
Agnieszka Herman (University of Gdansk, PL), Plenary
Chris Horvat (Harvard University, USA)
Alison Kohout (National Institute of Water and Atmospheric Research Ltd, NZ), Plenary
Jennifer Lukovich (University of Manitoba, CA)
Yiping Ma (University of Colorado Boulder, USA)
Ben Murphy (University of California Irvine, USA)
Donald Perovich (U.S. Army ERDC Cold Regions Research and Engineering Lab, USA), Plenary 
Mary Silber (Northwestern University, USA), Plenary
Vernon Squire (University of Otago, NZ)
Court Strong (University of Utah, USA)
Ivan Sudakov (University of Dayton, USA)
Takenobu Toyota (Hokkaido University, JP)
Martin Vancoppenolle (French National Centre for Scientific Research, FR)
Renate Wackerbauer (University of Alaska Faibanks, USA)
Jérôme Weiss (Institut des Sciences de la Terre, FR), Plenary
Andrew Wells (Oxford University, UK)
John Wettlaufer (Yale University, USA), Plenary
Location:
Simon Fraser University, Harbour Center Campus, Vancouver
Description:
Interesting mathematics arises in many areas of the study of sea ice and its role in climate. Partial differential equations, numerical analysis, dynamical systems and bifurcation theory, diffusion processes, percolation theory, homogenization and statistical physics represent a broad range of active fields in applied mathematics and theoretical physics which are relevant to important issues in climate science and the analysis of sea ice in particular. We will explore how these areas of mathematics are being used to advance our understanding of sea ice, improve projections of climate change.
We will focus our attention on topics which include the following:
• Sea ice and global climate models
• Sea ice processes and the climate system
• Linkage of scales - homogenization of effective properties
• Bifurcations in low order nonlinear models of polar climate
• Polar ecosystems, biogeochemistry of sea ice, and climate change.
The conference begins on Thursday 24th and should end by 4pm on Saturday 26th. It will feature plenary lectures in the morning and two parallel sessions of talks in the afternoons. There will also be a poster session during the meeting. Individuals wishing to present a poster or short talk should fill in the form under the section"Call for Abstracts".
Event Poster: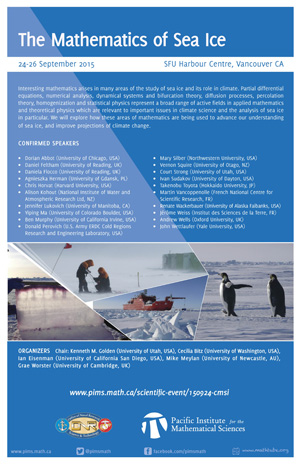 Organizers:
Chair: Kenneth M. Golden (University of Utah, USA)
Cecilia Bitz (University of Washington, USA)
Ian Eisenman (University of California, San Diego, USA)
Mike Meylan (University of Newcastle, AU)
Grae Worster (University of Cambridge, UK) 
Other Information:
Call for Abstracts and Travel Funding:
Deadline for applications was August 21, 2015. Eligible applications should have already received an email from PIMS.
Registration:
All participants are required to register for this event. To register, please click the "sign up" button at the bottom of this page. You will be requested to create a PIMS account first and then return to this page to complete the payment process (Visa and Mastercard only).  Fees include the conference package, coffee breaks, conference lunches on the 24th - 26th, and an opening reception on Sept 24th.
$275CAD Regular Registration
$200CAD Graduate Students and Postdoctoral Fellows
Plenary speakers, listed above, have already been registered for this event and do not need to sign-up through the PIMS website.  
**Registration will remain open until we reach capacity. 
Conference Venue:

Simon Fraser University at Harbor Centre: 515 West Hastings Street 
Accommodation Options:
Our preferred accommodation for the Conference is the Delta Vancouver Suites and Ramada Limited. We have set a group block for participants for Sept 23- 27, 2015.
Ramada Limited Downtown Vancouver
435 West Pender Street (2 blocks away)
Phone: 604-488-1088
Toll Free: 1-888-389-5888
www.ramadadowntownvancouver.com
Conference rates at $159 (queen) to $169CAD (two doubles) per night. Rate includes complimentary breakfast and free guest Wifi.
Please email hotel direclty to make a reservation:  sales@ramadadowntownvancouver.com. Group : Math of Sea Ice. Rooms are still available at this location.
The Delta Vancouver Suites 
Rates begin at $209CAD before taxes for single or double occupancy. Please call the hotel and quote "Mathematics of Sea Ice".  You can also book online here and receive the dicount code directly. Rates will be available until September 7th. Reservations made after this date will be based on availability.
Address: 550 West Hastings Street; Phone: 604-689-8188
; Toll Free: 1-888-890-3222
Other hotel options can be found online on  Tourism Vancouver.
Final scientific report available here.
Sponsor: