GAP 2014: Geometry and Physics
Start Date:

05/29/2014

End Date:

05/31/2014
Location:
University of British Columbia
Description:
Every year, the GAP conference focuses on a current hot research topic at the interface between geometry and physics. The conference usually consists of 4 or 5 mini-courses on different aspects of the chosen theme.

This year, GAP 2014 will kick off a few weeks of intense activity at the interface of geometry and physics in Western Canada, beginning with this Workshop on Geometry and Supersymmetry and continuing with the String Math Summer School (June 2 – 6, 2014; University of British Columbia) and culminating with the String Math 2014 conference (June 9 – 13, 2014; University of Alberta).
GAP 2014 is now the sixth installment in what has become an annual tradition. The history of GAP and more information about this year's conference and links to related activities can be found here. 
Workshop Format:
An introductory lecture and a special public lecture will be given by: James Gates (University of Maryland) on May 29th with courses on Geometry and Super Symmetry taught daily. Our schedule will also allow ample time between talks for discussions.
Confirmed Speakers:
Chris Brav (Institute for Advanced Study)
Ron Donagi (University of Pennsylvania)
José Figueroa-O'Farrill (University of Edinburgh)
Daniel Waldram (Imperial College London)
Workshop Program:
A copy of the program can be found here.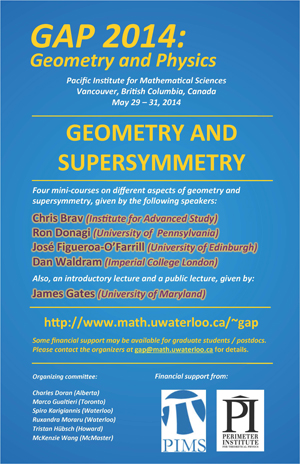 Organizers:
Charles Doran (Alberta), Marco Gualtieri (Toronto), Tristan Hübsch (Howard), Spiro Karigiannis (Waterloo), Ruxandra Moraru (Waterloo), and McKenzie Wang (McMaster).
Other Information:
Location:
UBC Earth Scieces Building, Room 2012
Workshop Check-in will take place at the Atrium 
Registration: 
There is no registration fee for the GAP workshop, however participants are required to register and RSVP. Please do so at the bottom of this page. You will be required to set- up a PIMS account and select the GAP event. Registration closes May 26, 2014. 
Accommodation:  
Undergraduate, Masters and Phd Students are encouraged to stay at the Gage Tower Apartments or at the Pacific Spirit Place. These offer rooms in a shared apartment. These price friendly rooms are suitable for discussions, networking with peers and are  some located next to university transit. 
**Place Vanier- Pacific Spirit Hostel:  Beginning at $33/ night, UBC's Place Vanier is an undergraduate first year residence, on campus open to the public. Each room is private with shared bathrooms and a TV lounge on each floor. NB: this option is the farthest from the transit loop, but a  5 minute walk to the workshop venue. Book here.
** Gage Standard Single Rooms: We reccomend this option for  Junior participants as it offer an opportunity to discuss and network together at the end of each day. There are six private single room per apartment . Guests share a washroom, lounge with flat-panel TV, breakfast bar and kitchen (not equipped with dishes, cookware, etc.). Breakfast is provided at the Pacific Spirit Cafeteria. This option is also closest to transit and the Student Union Building for simple amenities. Please book here.
**West Coast Suites: Hotel style: A king/ queen bedroom with a separate living room , fully equipped kitchen and private bath. Reservationsinclude breakfast from 6:45-9:00am at the Pacific Spirit Cafeteria. Please book here.
** St Johns College: Double or queen room with private bath: Dinner is served Sunday through Thursday; Breakfast is served Monday through Friday, and Continental breakfast basket is provided on Saturday and Sunday and the College's dining facilities. Based on availability, please book here.
Off Campus:
If you wish to be off campus with the opportunity to enjoy Downtown venues along Robson Street, please book at the Listel Hotel, Vancouver's most "art-full" hotel. The Listel  is our preferred off-campus hotel accommodation with good transit options to UBC. Hotel guests can enjoy a complementary wine receotion each evening and PIMS participants can enjoy one a-la-carte breakfast each day.  Please factor in transit times to the workshop venue when deciding on this venue. Please use the PIMS special code here when making your reservation. 
Travel Funding: 
Some financial support may be available for graduate students and/or postdoctoral fellows. Please contact the organisers here.
Survey:
Please help PIMS to improve the quality of its events and plan for the future by filling out this quick and painless survey.