PIMS Invites 2020 Activity Proposals
The Pacific Institute for the Mathematical Sciences (PIMS) invites applications for support of activities in the mathematical sciences to occur after April 1, 2020.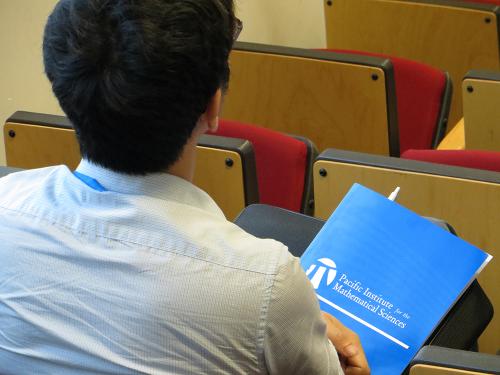 Here are just some of the activities we support:
CONFERENCES, WORKSHOPS AND SUMMER SCHOOLS 

Ranging from small one-day workshops to multi-week conferences and summer schools involving hundreds of participants.
FOCUS PERIODS
Focus Periods are special opportunity events centering on current mathematical trends and collaborative prospects.
DISTINGUISHED VISITORS
PIMS considers invitations for distinguished scientists to visit its member institutions for periods ranging from one week to a few months, and provides up to $5,000 CDN for each such visit.
ACTIVITIES IN STATISTICS
PIMS encourages organizers of activities in statistics to also consider submitting proposals to CANSSI.
INNOVATION ACTIVITIES (Industrial)
These include joint academic/industrial conferences and workshops, industrial short courses, industrial problem-solving workshops, job fairs and networking events, related HQP development and training, and a special Industrial Travel Fund. Generally, the deadline for submission is October 1, 2019.
Proposals will be reviewed by the PIMS Scientific Review Panel (SRP) in November 2019, with awards announced by mid-December.
Applicants are welcome to send proposal drafts, well in advance of the deadline, to the Deputy Director for feedback.
For a full listing of eligible activities, submission procedure, application forms and more information, visit the SRP page on the PIMS website.
Collaborative Research Groups (CRG)
CRGs typically consist of researchers with overlapping research interests and with a common desire to collaboratively develop some aspects of their research programs.
Letters of intent for 2020 applications due: October 1, 2019
Full applications due: October 1, 2019