2023 PIMS Day
Date:

09/22/2023

Time:

11:00
Description: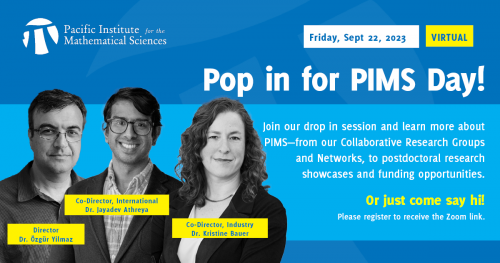 PIMS is pleased to invite our extended network to our first annual PIMS Day on September 22, 2023. The program is an exciting and informative two-part series.
11:00 AM - 1:10 PM  Pacific Time - Meet the CRGs and PDFs at PIMS
We invite all members of the PIMS network to hear about Collaborative Research Groups (CRGs), PIMS Research Networks (PRNs), hear first-hand accounts from several of our postdoctoral scholars, and learn about their outstanding research in the mathematical sciences.
1:15 PM - 2:30 PM Pacific Time - Directorate Open-house
In this second part of the program, we invite you to meet with our PIMS Directors and review current and future PIMS scientific and educational funding opportunities. Feel free to extend this invite to your colleagues, many of whom will be interested in knowing about the ways in which PIMS supports mathematical sciences researchers and their work across western Canada.
Other Information:
Time
11:00am Pacific/ 12:00pm Mountain/ 14:00 Eastern.
Registration 
Please register here to recieve the meeting link.