2022 PIMS-CRM Summer School in Probability
Start Date:

05/30/2022

End Date:

06/24/2022
Location:
University of British Columbia
Description:
The 2022 PIMS-CRM summer school will be taking place at UBC from May 30 to June 24, after a 2 year delay from 2020. There will be two main courses, given by Frank den Hollander and Ivan Corwin, and mini-courses by Paul Bourgade, Jean-François Le Gall, and Nike Sun. Details on the summer school can be found on the event page here.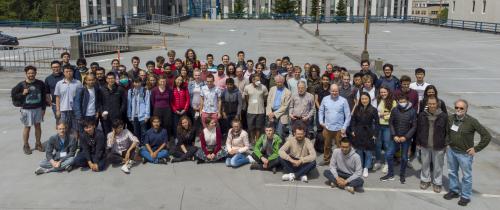 Photo Credit: Bruno Renzi 
All funded participants should have received an email from the organizers, inviting them to register on this page. Funded participants should register and pay the registration fee of $150 CAD by February 28th, 4:00pm Pacific to reserve their spot at the summer school.
Health requirements:
PIMS and the University of British Columbia will implement guidelines set by the Office of the Provincial Health Officer in BC. As such, at the time of the meeting commencement, individuals attending the summer school may be required to either show a negative Covid test taken within 72 hours, or, show proof of full vaccination. Participants will be requested to show government issued ID in addition to the above documents. Masks and other requirements will be determined according to the University of British Columbia COVID policies as outlined in https://covid19.ubc.ca/.
Cancellation Policy
In order to cancel, you must notify the organizers. Requests sent before 4:30 PST May 1 2022 are eligible for a full refund. Requests after this date will not be eligible for reimbursement. 
Travel and Visa Information for International Participants 
Click here for information of travel if you are an International particpant. If you require a letter of invitation from PIMS, please ensure that you have met all the criterial on the noted information sheet. PIMS may request for additional information in order to send a letter of invitation. Please note that entry into Canada requires that you be fully vaccinated against Covid-19. Please see: https://travel.gc.ca/travel-covid/travel-restrictions/wizard-start. 
Online Security
PIMS will never contact you regarding travel reservations or accommodation payments. Please be vigilant should you receive any emails, calls or text messages claiming to assist you in making reservations for a PIMS sponsored event. Do not provide any personal information such as a social insurance number, credit card number, bank account number, or passport number as these requests are fraudulent in nature.  
Organizers:
Organizers: Louigi Addario-Berry, Omer Angel, Jonathan Hermon, Mathav Murugan, Gordon Slade.
Scientific committee: Siva Athreya (India), Chris Burdzy (USA), Maria Emilia Caballero (Mexico), Sandra Cerrai (USA), Dayue Chen (China), Zhen-Qing Chen (USA), Alison Etheridge (UK), Nina Gantert (Germany), Mark Holmes (Australia), Takashi Kumagai (Japan), Gregory Miermont (France), Roberto Oliveira (Brazil), Jeremy Quastel (Canada).
Other Information:
Registration for this event is now closed.
Please visit the summer school website for more information on remote participation.
Contact:
Should you have any queries about this event, pleasae contact ruth@pims.math.ca.