UWashington Math Across Campus Colloquium: Chaitra Nagaraja
Lecturer(s):
Chaitra Nagaraja,
Fordham University
Location:
University of Washington
Description:
Our world swirls with percentages, ratios, and graphs. These numbers are often presumed to be objective reflections of reality. But they are not. To measure a human-designed society requires human-designed measures, with all attendant foibles folded into them. Interpreting what statistics can and cannot tell us is crucial. Understanding why they were poked and prodded into being measured that way is just as significant, if not more so. Through examples, we see how subjectivity seeps into every aspect of measurement.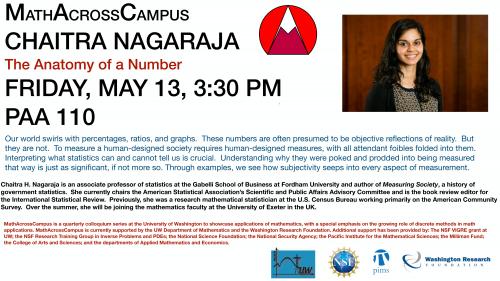 Organizers:
MathAcrossCampus
Other Information:
Date and Time: Friday, May 13, 3:30 PM
Location: PAA 110
Sponsor:
UW Department of Mathematics and the Washington Research Foundation