Mini-symposium in Honour of Professor Fred Brauer
Date:

02/02/2022

Time:

14:05
Topic:
Celebrating Fred Brauer's 90th Birthday
Description:
Prof. Brauer had two mathematical careers, the first at U Wisconsin, Madison (1960-96), where he also served as Department Chair, and the second as an emeritus honourary professor at the University of British Columbia. Fred was an active member of our UBC Mathematical Biology group, and we are greatly saddened to have lost him. At this event, celebrating Fred Brauer's 90th Birthday, we will come together to honour Fred's scholarship, mentorship, friendship and legacy.
We welcome short stories, memories, and research highlights from friends and colleagues. If you have something you wish to present, we are taking submissions until January 10th. Please fill out this form.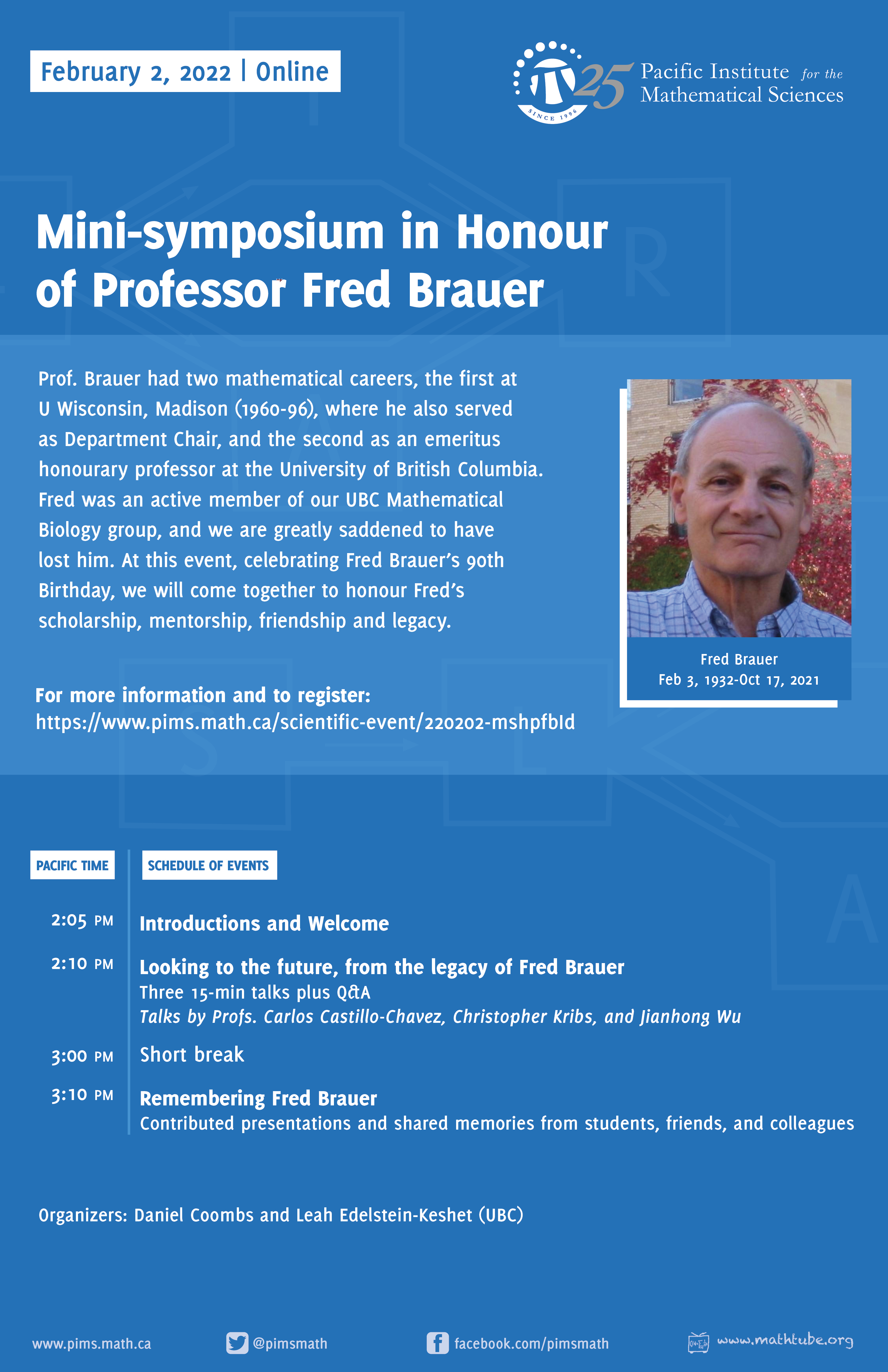 Schedule:
Times in Vancouver, BC
2:05 – Introductions and Welcome
2:10 – 3:10 - Looking to the future, from the legacy of Fred Brauer
Three 15-min talks (and 5-10 min for questions):
Profs. Carlos Castillo-Chavez, Christopher Kribs, and Jianhong Wu
3:00-3:10 - Short break
3:10 – Remembering Fred Brauer
Short contributed presentations and shared memories from students, friends, and colleagues (5 min each). To include: Abba Gumel, Julien Arino, Jummy Funke David, Daniel Coombs, and others.

Organizers:
Daniel Coombs, UBC
Leah Edelstein-Keshet, UBC