Prairie Discrete Mathematics Workshop 2021
Start Date:

08/13/2021

End Date:

08/14/2021
Location:
University of Lethbridge
Description:
The workshop builds on the success of the previous Prairie Discrete Math Workshops, from the first one organized by Shaun Fallat and Brian Alspach and held at the University of Regina in Regina, Saskatchewan, in early October 2003, through the most recent held at Brandon University in 2018. The intention is to gather together combinatorists from the prairie provinces and nearby locations for a relatively informal workshop.
The workshop will be held in Lethbridge, hosted by the University of Lethbridge.
This workshop was originally planned for May 2020, but was postponed due to the pandemic. We hope that public health restrictions will allow some people to attend in person, but will ensure the meeting is available and accessible for virtual participation.
In addition to the event hosting at the University of Lethbridge, small "watch party" gatherings may be organised at other locations. If you would like to arrange a local "watch party," contact the organisers: we may be able to reimburse costs for snacks/meals at these events.
We are trying to plan an event that is as flexible as possible to accommodate public health scenarios and participant travel limitations and safety concerns. Please let the organisers know if you have suggestions or special requests.
Confirmed invited speakers are:
Gary Au, University of Saskatchewan
Nancy Clarke, Acadia University
Mark Kayll, University of Montana
Dave Morris, University of Lethbridge
Shahla Nasserasr, Rochester Institute of Technology
Ortrud Oellermann, University of Winnipeg
There are spots available for short (25 minute) contributed talks. Please contact the organizers by the end of June if you would like to contribute a talk (time permitting).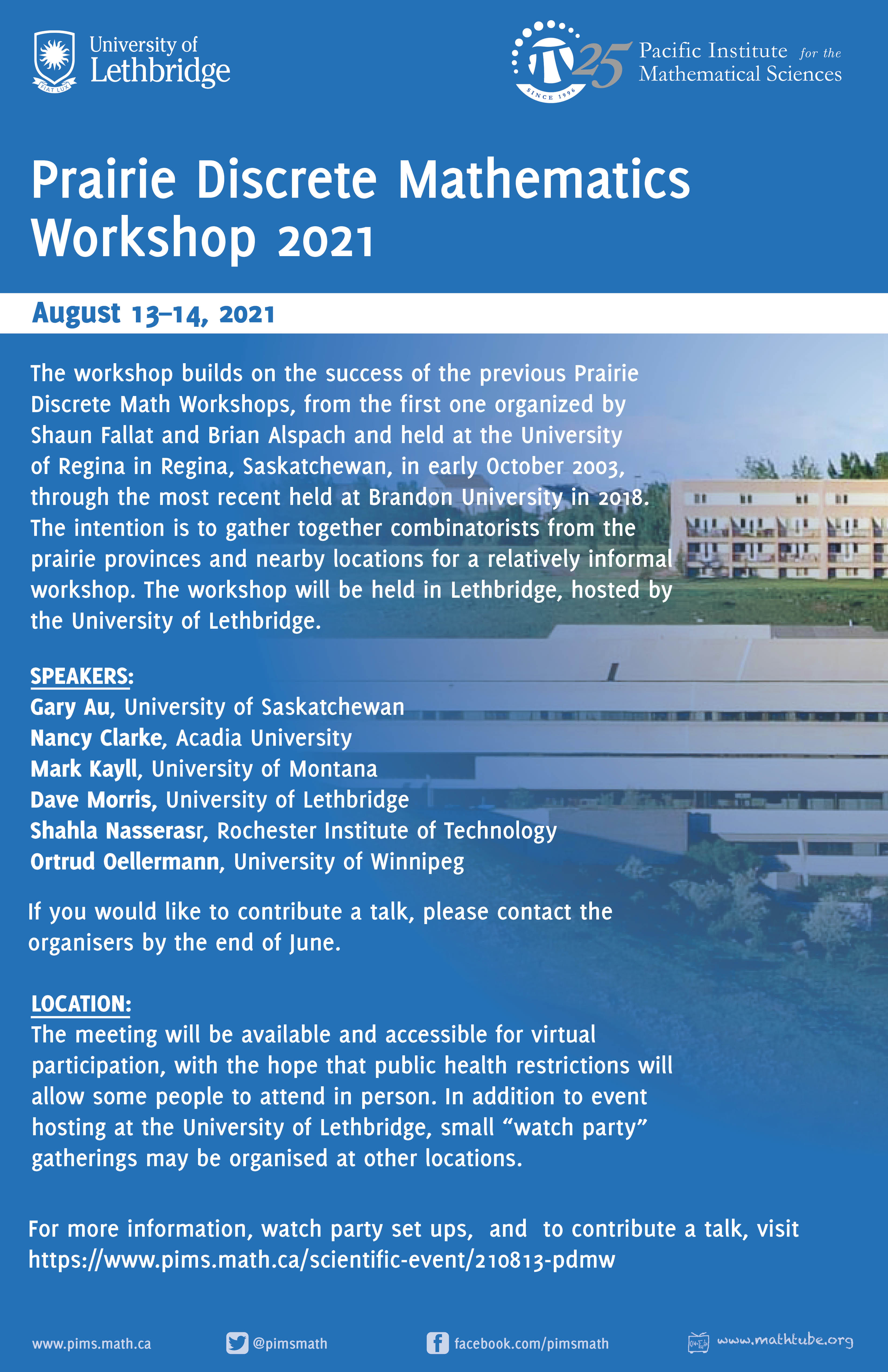 Organizers:
Hadi Kharaghani, U. of Lethbridge
Joy Morris, U. of Lethbridge
Dave Morris, U. of Lethbridge.
Other Information:
Place and Date:
University of Lethbridge, Lethbridge, Alberta,
Friday August 13 - Saturday August 14, 2021.
Talks will begin early on the morning MOUNTAIN DAYLIGHT TIME of August 13 and end late in the afternoon on August 14, so we suggest that participants who are attending in person arrive on August 12 and not leave before the evening of August 14.
For more details and to register for this event please visit the main site here.