2019 Diversity in Mathematics: Highschool Math Day Camp Information and Registration
Start Date:

07/22/2019

End Date:

08/02/2019
Description:
High-school math day camp Application Information:
Application deadline extended to July 6, 2019.
Highlights of the math camp:
Are you in grade 10, 11 or 12? Do you find math stimulating and fun? Do you want learn more math but are not sure how to? Do you wonder if and how math would be helpful for a future career? Do you want to meet undergraduates in science majors studying in universities nationwide and learn about their journey from high school to university? If the answer is yes, then this camp could be for you!
The main goal of the camp is to provide an opportunity to a group of high school students with diverse backgrounds to explore their talents and further develop their mathematical skills in a collaborative and encouraging environment. The camp location: first week at UBC and the second at SFU, will give the participants an opportunity to experience students' life at the BC's two biggest universities.
This will be achieved by:
(a) Exposure to mathematical areas that are not part of regular curricula.
Possible topics include the mathematics of origami or puzzles, elementary graph theory, game theory, or math modelling. All material will be presented in the way that is accessible to high school students.
(b) The camp will showcase numerous academic, industrial and corporate career options that math can lead to, via guest presentations, panel discussions and field trips. Participants will get a sense how mathematics is woven into the fabric of modern life, allowing them a view of the subject that goes beyond a course requirement.
(c) Through joint activities with the participants of the national summer school for women who study mathematics at the undergraduate level, the camp will facilitate interaction between the two groups. As a result, the camp participants will be mentored by their older peers on particular mathematical topics, but also about the joys and challenges that university students experience during their academic journey.
We wish to give the camp participants a glimpse of higher math and college life, and help them realize that university is a place for them.
Download the poster below for your colleagues and students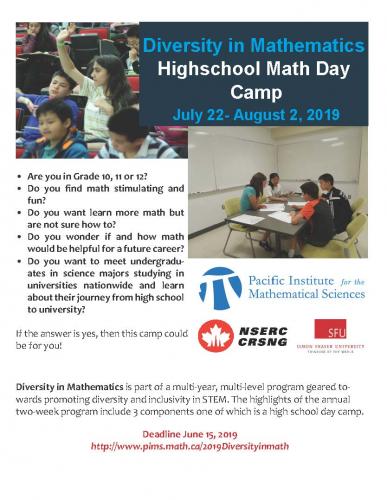 Core Values of the Summer Camp
Respect:
Camp participants are expected to respect all people involved in the Diversity of Mathematics summer camp, including themselves, other camp participants, teachers, the camp coordinator, PIMS/UBC/SFU faculty and staff, and UBC students. The camp participants are expected to respect the PIMS/UBC/SFU property.
Participation:
The camp participants are expected to wholeheartedly participate in all camp activities. This includes listening to teachers, supervisors, and other presenters; completing all required work to the best of their abilities; and following and complying with all instructions given by the camp coordinator.
Attitude:
The camp participants are expected to maintain a positive and friendly attitude throughout the camp.
Safety:
The Diversity of Mathematics summer camp is a safe and fun place for everyone. Any kind of physical violence, bullying, harassment, teasing, possession of weapons (including materials used as weapons,) or behaviour that in any way threatens the safety of others will not be tolerated.
Attendance:
The camp participants are expected to arrive on time and attend all sessions during the camp.
Camp participants that arrive after 9:30 will be considered late. Up to and including two late arrivals will be allowed during the camp. If a camp participant is late more than two times, she/he will be dismissed from the camp. No more than two absences will be allowed. These absences cannot include the first day of the camp.". The camp participants weekly stipend will be reduced by 1/10 per absence. If the camp participant is absent more than twice, she/he will be dismissed from camp.
Eligibility Requirements:
*Canadian citizens or permanent residents who recently completed BC Precalucus 10 or an equivalent math course with the letter grade of at least a B. Priority will be given to participants from groups underrepresented in mathematics, science and engineering.
Camp location:
First week at UBC and the second at SFU, will give the participants an opportunity to experience students' life at the BC's two biggest universities. 
Application information:
Please fill in the application form here: and send it to diversity-hs@pims.math.ca.
Application deadlines extened to July 6, 2019
Sponsor: