University of Victoria - Levin Fest
Speaker(s):
Dr. Simon Levin
J.S. McDonnell Distinguished University Professor in Ecology and Evolutionary Biology
Princeton University
Location:
University of Victoria
Topic:
A Symposium at the Intersection of Mathematics and Biology
To celebrate the conferral of UVic Honorary Doctor of Science to Dr. Levin
Description:
Two lectures from this event are available on mathtube.org.
To celebrate the conferral of UVic Honorary Doctor of Science to Dr. Levin, and to raise the role of mathematical biology at PIMS Universities, members of the UVic Biology and the Math & Stats departments will be hosting "Levin Fest" on Saturday, June 15 2019, at the end of convocation week. The Keynote at this symposium will be given by Professor Levin and the symposium will also include two plenary talks by Mark A. Lewis, Professor and CRC, UofA, and A. Carla Staver, Yale University, who obtained her PhD under the supervision of Professor Levin.
Mathematicians, biologists and those working between the areas are invited to give contributed talks, attend the event and have the chance to meet and discuss with Professor Levin. This event is interdisciplinary and a unique opportunity for members of the PIMS community to encourage dialogue in mathematical biology.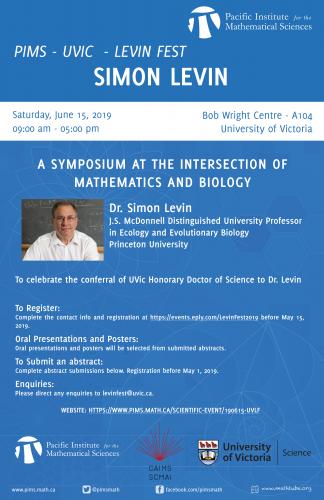 Keynote Speaker:
Dr. Simon Levin, Princeton University
Systemic Risk and Opportunity: Alternative Realities in Social and Ecological Systems
Invited Speakers:
Dr. Mark Lewis, University of Alberta
Understanding Animal Movement Patterns with a Mathematical Eye
Dr. Carla Staver, Yale University
Resilience and stability of tropical biome distributions

Schedule:
9:00 am – 5:00 pm
Bob Wright Centre A104
Organizers:
Pauline van den Driessche, UVic
Barbara Hawkins, UVic
Junling Ma, UVic
Real Roy, UVic
Other Information:
To Register:
Complete the Contact Info and Registration at https://events.eply.com/LevinFest2019 prior to May 15, 2019.
Contributed Presentations: 
Oral Presentations will be selected from submitted abstracts.
To Submit an Abstract for a Talk or Poster:
Complete abstract submission section on registration site prior to May 1, 2019.
Please direct enquiries to
Sponsor: