PIMS Mini-workshop on calculus of variations and partial differential equations around the work of Alessio Figalli
Start Date:

02/08/2019

End Date:

02/09/2019
Location:
University of British Columbia
Description:
Calculus of variations and partial differential equations have been seeing great progress over the last decade, and some of the most important driving forces in these developments are optimal transport and free boundary theories. The recent Fields medalist, Alessio Figalli, has made groundbreaking results in these directions, and it is worth to bring a few leading researchers in these areas, to discuss the state of the art and the future directions, especially to inspire young researchers in the PIMS community.
Main  Speakers
Alessio Figalli, ETH Zurich  
Francesco Maggi, UTexas at Austin
Robert McCann, UToronto
Ovidiu Savin, ColumbiaU
Yannick Sire, Johns Hopkins University
Download the full program here.
(please note that Saturday Sessions will be in Math 100)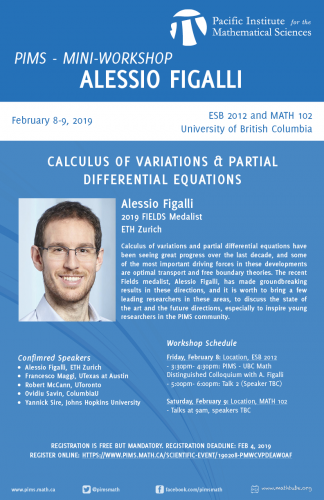 Livestream:
Alessio Figalli's colloquium (Friday Feb 8th, 4:30pm) will be available via webcast here. 
Organizers:
Young-Heon Kim, UBC
Jun-Cheng Wei, UBC
Other Information:
Registration:
Registration for this event is free but mandatory. Please sign up through the link below so that the organizers can prepare adequately. Registration deadline: Feb 4, 2019
Location:
Friday February 8: Earth Sciences Building, Room 2012
Saturday February 9: MATH  Room 100 (Please note new location)
Accommodation:
A few options are available for out-of town particpants: