Prairie Discrete Math Workshop
Start Date:

06/12/2018

End Date:

06/15/2018
Location:
Brandon University
Description:
We are pleased to host the Prairie Discrete Mathematics Workshop (PDMW) 2018 at Brandon University in Brandon, Manitoba.
The workshop will be held in the Brodie Science Building of Brandon University, June 12 – 15, 2018. The main objective of the PDMW is to bring together researchers in the area of discrete mathematics from across the prairie region as well as neighbouring provinces and states. The goal for the workshop is to provide opportunities for sharing research and joint research projects. The PDMW has been held annually since 2003 (with the exception of 2007 and 2014). 2018 represents the fourteenth workshop.
Invited speakers:
Richard Brewster (Thompson Rivers University)
Ada Chan (York University)
Rob Craigen (University of Manitoba)
Shonda Gosselin (University of Winnipeg)
Gary MacGillivray (University of Victoria)
Karen Meagher (University of Regina)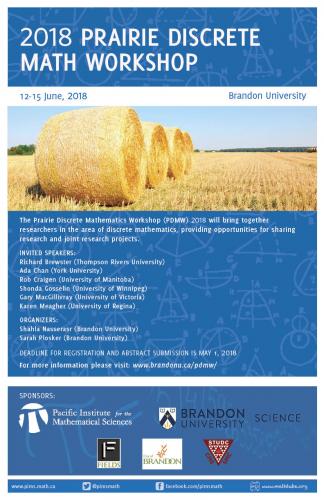 Other Information:
For more information on registration and accommodation, please visit the main site here.
The location for this event is at Brandon university. 
Sponsor: