CRG Conference on Geometric Analysis
Start Date:

07/24/2017

End Date:

07/28/2017
Location:
University of British Columbia
Description:
The conference marks the second joint event of the International Collaborative Research Group (CRG), which includes Australian National University, Beijing International Centre for Mathematical Research, Pacific Institute for the Mathematical Sciences, The University of British Columbia, and University of Washington. It aims to survey the state-of-the-art advances in areas of geometric analysis, differential geometry, and nonlinear partial differential equations. The conference in part celebrates Professor Gang Tian's 60th birthday.
Speakers
R. Bamler, U.C. Berkeley
W. Ballmann, Bonn
J. Bismut, Paris-Sud
J. Cheeger, NYU
A. Futaki, University of Tokyo 
B. Kleiner, NYU
S.Kolodziej, Jagiellonian University
Y.Y. Li, Rutgers
J. Lott, U.C. Berkeley
A. Naber, Northwestern
S. Paul, Wisconsin-Madison
T. Riviere, ETH Zurich
Y. Rubinstein, UMaryland  
N. Sesum, Rutgers
J. Streets, U.C. Irvine
M. Struwe, ETH Zurich
J. Viaclovsky, Wisconsin-Madison
J.P. Wang, Minnesota
B. White, Stanford
Y. Yuan, UWashington
W. Zhang, Nankai
Conference Schedule
A copy of the full schedule is available here.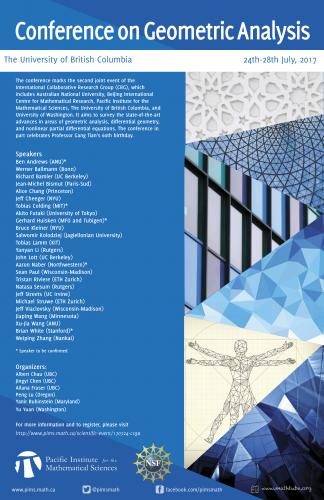 Organizers:
Albert Chau (UBC)
Jingyi Chen (UBC)
Ailana Fraser (UBC)
Peng Lu (Oregon)
Yanir Rubinstein (Maryland)
Yu Yuan (Washington)
Scientific Committee:
Alejandro Adem (UBC)
Benjamin Andrews (ANU)
Jeff Cheeger (NYU)
Jingyi Chen (UBC)
Tobias Colding (MIT)
Nassif Ghoussoub (UBC)
Xiaobo Liu (Peking U)
Xujia Wang (ANU)
Other Information:
Registration:
Registration for this event is now open. This is a two-step process:
1) Scroll to the bottom of this page and select the LOGIN button. If you have a PIMS account, log into the account. Otherwise, create a new account.  
2) Once you have logged in, return to this event page and click on the SIGN-UP button at the bottom of the page to register; you will then be directed to UBC's Payment page to pay the fee for the event.
Registration fees help to cover logistical costs of the conference including coffee breaks, program packages and the conference dinner.
Early Registration: Until April 30, 2017 (prices, in CAD, include tax)
Speakers: $50CAD
Graduate Students/ Post Docs: $65CAD
Faculty:$105CAD
Non Particpant Dinner: $65 CAD
Late Registration: After May 1, 2017
Speakers: $50CAD
Graduate Students/Post Docs: $80CAD
Faculty:$120CAD
Non- Particpant Dinner: $65 CAD
Accommodation:
We have made a group reservation for the Geometric Analysis Conference with two hosts at UBC. Participants are strongly encouraged to book at these venues due to their proximity to the conference rooms.
UBC Ponderosa Residence:
- Premium Studios at $136 per perspm (Private suite with a furnished Kitchen)
To book the rooms at this location, please call UBC Conferences at  Toll Free: 1.888.822.1030 and quote the "Geometric Analysis Rate". A Participants can also book online here.
UBC Carey Centre:
- Premium Queen rooms with kitchenettes at $99CAD/night (max occupancy 2 persons).
To book at the location please call the the front desk at Toll Free: 1.844.862.2739 or email info@carey-edu.ca  and request the Geometric Analysis rate. You can aslo book online here (a valid credit card is required) The conference booking code is PIMSJULY2017.
Funding for Junior Particpants:
Some funding is available to graduate students and postdocs attending this conferece, though we encourage you to find alternative sources of funding to attend. Please fill in the request for funding form here. Priority will be given to forms received on or before April 21. forms received there after will be funded on a first come first serve basis.
Local Information:
Local Transit: UBC is transit friendly and Bike friendly. Check information on arriving on campus by transit and getting transit tickets here; rent-a-bike to get round campus here.
Taxis: Taxis are available outside UBC Ponderosa Residence or by phone at 604-681-1111
.
Local Weather: Check current conditions here.
Food Outlets and their hours of operations: On Campus; Off campus such as UBC Village; Point Grey Village and Westbrook village offer an array of restaurants and food outlets.
On Campus Activities: UBC recreation and UBC's top attractions.  
Contact Us: 
For logistical queries or any other concerns, please contact the PIMS Reporting and Events Assistant at reporting@pims.math.ca. 
Final report available here