Graduate Summit in Mathematical Biology and Applied PDE
Start Date:

05/25/2017

End Date:

05/28/2017
Location:
Jasper, Alberta
Description:
We invite our graduate students to the Palisades Centre in beautiful Jasper National Park. We offer a series of scientific and professional development activities, where we discuss mathematical modelling of biological problems, analysis of partial differential equations, career development in applied and industrial mathematics, and the art of communication. Participants have the opportunity to give either a short talk or a poster. Activities will include:
* Tutorials on modeling of collective behavior with PDEs (R. Eftimie , U Dundee)
* Lecture on Industrial Mathematics (J. Stockie, Simon Fraser U)
* Workshop on public speaking 
* Discussion of career paths in applied mathematics
* Talks and posters of participants with poster awards
* Hike in Jasper National Park (All particpants in this event should sign the attached waiver)
* Art and music night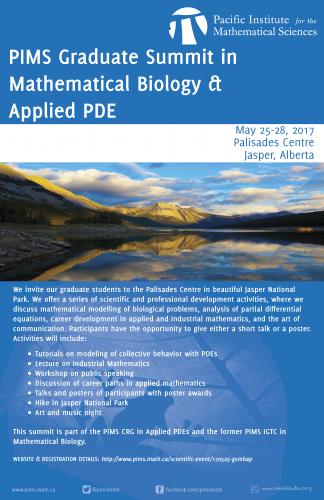 Instructors:
A. Bianchi (U.Alberta) 
D. Coombs (UBC) 
P. van den Driessche (U Victoria) 
R. Eftimie (U Dundee)
T. Hillen (U. Alberta), main organizer
M. Lewis (U. Alberta)
J. Stockie (Simon Fraser U)
R. Tyson (UBC Okanagan)
G. de Vries (U Alberta)  
H. Wang (U Alberta)
M. Ward (UBC)
Tentative Schedule: 
May 25: 
13:00 Leave Edmonton by bus
18:00 Supper 
20:00 Welcome
May 26:
09:00 Eftimie lecture I
10:00 Speaking workshop
14:00 Short talks of participants
20:00 Poster session
May 27:
09:00 Eftimie lecture II
10:00 Stockie, industrial math
13:00 Hike
20:00 Art and music night
May 28: 
09:00 Eftimie lecture III
10:00 Discussion about careers in applied math
12:00 Bus leaves for Edmonton
19:00 Back in Edmonton
Other Information:
Location:
Palisades Stewardship Education Centre,
Jasper National Park,
Jasper, AB T0E 1E0
Who can participate: 
This graduate summit is exclusive for students of supervisors who are involved in the current PIMS CRG in Applied PDE as well as those who were part of the past PIMS IGTC (International Graduate Teaching and Learning Centre) in Mathematical Biology.
Preference will be given to students that are part of one of these research groups. Please talk to your supervisor to clarify. We have space for 50 students and the meeting will fill up quickly.
About the Centre:
The Palisades Centre is beautifully located in the middle of Jasper National Park. The facilities are very basic and participants, as well as instructors, need to share rooms with bunk beds. 
If, for some reason, you need a single room, please e-mail us at: pimsgradsummit@gmail.com. 
Transport: 
We plan to hire a bus that can bring the participants from Edmonton to the Palisades Centre as well as back to Edmonton. We plan to have the bus leave Edmonton on May 25 at 13:00 and return to Edmonton on Sunday May 28, 19:00.
Costs: 
There are no registration fees for this summit. Also, accommodation and food is covered for all participants. You are responsible for your own transportation, and, depending on the funding, we might have to charge a fee for the bus service.  
Registration:
Please send an email with the following details to The Summit Coordinator.
-  Your CV
-  A statement of why you like to attend
-  An email confirmation from your supervisor
-  Your gender (for room assignments) 
Registration deadline March 31, 2017
Final scientific report available here.  
Sponsor: