Sirince Summer School in Mathematical Physics -- CANCELLED
Start Date:

08/22/2016

End Date:

09/04/2016
Location:
Sirince, Turkey
Description:
The aim of this intensive two-week summer school is to enable the participants from Turkey and abroad to follow courses on certain aspects of a chosen theme in mathematical physics. Beginning graduate students or postdocs seeking research topics in domains covered by the lectures, or even highly motivated advanced undergraduates recommended by their scientific tutors are encouraged to participate.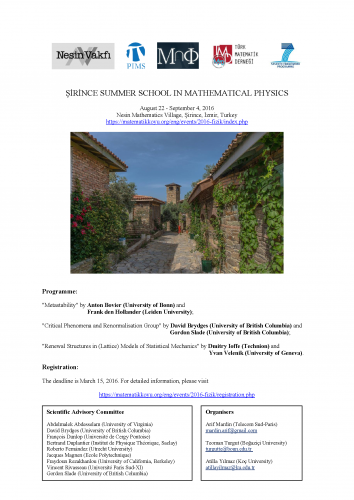 Schedule:
"Metastability" by Anton Bovier (University of Bonn) and Frank den Hollander (Leiden University)
"Critical Phenomena and Renormalisation Group" by David Brydges (University of British Columbia)and Gordon Slade (University of British Columbia)
"Renewal Structures in (Lattice) Models of Statistical Mechanics" by Dmitry Ioffe (Technion) and Yvan Velenik (University of Geneva)
There will be three (two in the morning and one in the afternoon) 90-minute lectures per day, except Thursdays which is a day off at the Village. Participants wishing to present their research will be strongly encouraged to do so in 30-minute talks in the evening after dinner.
Sponsor: