Canadian Abstract Harmonic Analysis Symposium
Start Date:

07/07/2016

End Date:

07/08/2016
Location:
University of British Columbia
Description:
Abstract harmonic analysis is the area of mathematics that deals with locally compact groups, their representations, and the Banach algebras associated with them. It leads naturally to problems in more general Banach and C*-algebras, motivates questions in quantum groups, and is related to some questions in quantum computing.
This research area has had a strong presence in Canada's mathematical community for several decades. Since 1997, CAHAS has been successful in bringing together researchers, from Canada and abroad, in abstract harmonic analysis and related areas, such as Banach algebras, operator algebras, operator spaces and quantum groups. Our goal is to continue to do so.
2016 Keynote Speakers:
Matthew Kennedy, University of Waterloo
Ian Putnam, University of Victoria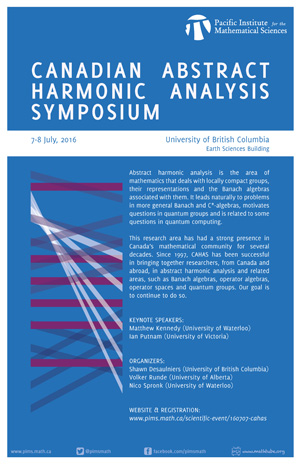 Organizers:
Shawn Desaulniers, University of British Columbia
Volker Runde, University of Alberta
Nico Spronk, University of Waterloo
Other Information:
Program:
A draft copy of the program is available here. Copies will be available for pick up during check in.
Location:
Earth Sciences Building, 5th floor: University of British Columbia - Vancouver.
Registration:
Registration for this event is open. Please scroll to the bottom of this page and click the LogIn botton. You will be required to create a PIMS account if you dont have one, and then return to this page  and select the Sign Up Button. Registration fees cover the program package as well as breaks during the workshop.
*Faculty: $100CAD
*Students/Postdoctoral Fellows: $25CAD 
Accommodation:
The organizers have set a rooms block for participants at the UBC Walter H. Gage Suites. Participants are aso welcome to contact the Reservations Office at (Toll-Free) 1 888 822 1030 to make a reservation. Please inform the staff that you are attending the Canadian Abstract Harmonic Analysis event. Kindly book before June 3rd, to take advantage of the CAHAS rate. After this date prices will be at the going market rate. To book online, please click here.
**Graduate students and postdocs: please select the "shared apartment" tab to obtain the junior participant rates in the shared suites.
Local Information:
Local Transit: UBC is transit friendly and Bike friendly. Check information on arriving on campus by transit and getting transit tickets here; rent-a-bike to get round campus here.
Taxis: Taxis are available outside Walter H. Gage Towers or by phone at 604-861-1111
604-861-1111.
Local Weather: Check current conditions here.
Food Outlets and their hours of operations: On Campus; Off campus such as UBC Village; Point Grey Village and Westbrook village offer an array of restaurants and food outlets.
On Campus Activities: UBC recreation and UBC's top attractions.   
Conference Evaluation Survey:
Participants of this event are required to fill in the online event evaluation survey available here.
Full scientific report available here.  
Sponsor: