13th PIMS Young Researchers Conference in Mathematics and Statistics
Start Date:

06/13/2016

End Date:

06/16/2016
Speaker(s):
Plenary lectures:.
Thomas Creutzig (University of Alberta)
Brian Forrest (University of Waterloo)
Yuan Lou (Ohio State University)
Vakhtang Putkaradze (University of Alberta)
Jeffrey Rosenthal (University of Toronto)
With workshops by Michael Bodnar
Location:
University of Alberta
Description:
This conference is a unique and important opportunity for graduate students in mathematics and statistics to meet their peers and discover the wide range of research currently undertaken in Western Canada and the Pacific Northwest. Participants will have opportunities to build and strengthen personal and professional relationships, develop and improve communication skills, and gain valuable experience in the environment of a scientific conference. Motivated by the results of the previous PIMS YRCs, we place emphasis on improving the presentation skills of the attendees and providing information on non-academic jobs. We endeavour to assist our participants in learning how to give engaging and informative talks, which are accessible and well-suited to the audience in question.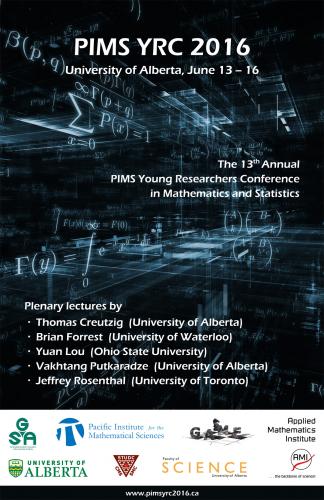 Other Information:
Registration: $30:00 + GST = $31.50 includes accomodation and conference banquet.
Accomodation: UA residences (Lister Centre) are shared rooms (2 persons / room).
Registrants must complete this form as well as clicking the SIGN UP button below by May 11. Accommodation WILL NOT BE BOOKED if payment is not received by that date.
Please visit pimsyrc2016.ca for more details.
Conference Evaluation Survey:
Participants of this event are required to fill in the online event evaluation survey available here. 
Full scientific report available here.