2016 Prairie Discrete Math Workshop
Start Date:

05/16/2016

End Date:

05/17/2016
Location:
University of Manitoba
Description:
The purpose of this two-day meeting is to bring together researchers in discrete mathematics from across the prairies and neighbouring provinces and states. The topics of the meeting will be areas of discrete mathematics including graph theory, design theory, combinatorial enumeration, and combinatorial algorithms.
This meeting immediately follows the Western Canada Linear Algebra Meeting, also being held at the University of Manitoba.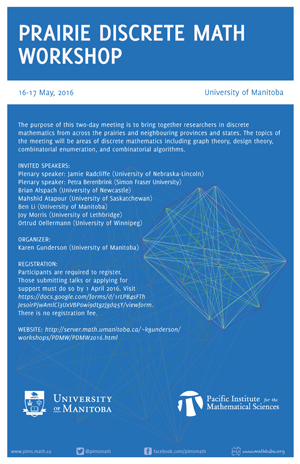 Other Information:
Participants are required to register. Those submitting talks or applying for support must do so by April 1, 2016. There is no registration fee.
Submissions for contributed talks and applications for student support can be made during the registration process.
Complete datails are available on the conference website.
Full scientific report available here.  
Sponsor: