Western International Workshop on Harmonic Analysis and PDE
Start Date:

06/10/2015

End Date:

06/12/2015
Speaker(s):
Confirmed List of Speakers
Arpad Benyi, Western Washington University
Mike Kouritzin, University of Alberta
Michael Lamoureux, University of Calgary
Diego Maldonado, Kansas State University
Virginia Naibo, Kansas State University
Eric Sawyer, McMaster University
Deniz Sezer, University of Calgary
Xinwei Yu, University of Alberta
Location:
University of British Columbia
Description:
The purpose of this workshop is to promote the communication and interaction, mainly on the western part of the continent, of researchers at all levels in the area of Harmonic Analysis, Partial Differential Equations, Geometric Measure Theory and their applications. While these are three distinct areas within mathematics with vibrant research communities, they also share a lot of overlap that has contributed to and shaped the evolution of these fields. Tools from harmonic analysis have been used with great success to address problems in PDE-s and geometric measure theory. Differential and measure-theoretic questions, in turn, have given rise to interesting and outstanding analytical problems, resulting in the development of extremely sophisticated machinery and emerging connections with many other areas such as additive combinatorics and number theory. Western Canada is the home of many experts in these areas. What is missing is an interactive network and an ongoing dialogue between the researchers of these diverse yet closely related fields.
The workshop will gather senior researchers, postdoctoral fellows and related collaborators, and graduate students mainly from universities in western Canada and USA. The great distances between the higher education institutions in this region result in less frequent interchanges and not very fluid dialogue among experts with common interests. It is necessary to incite and support the conversation between researchers and students from the University of Washington, the University of British Columbia, Simon Frasier University, University of Alberta, and the University of Calgary, and other higher education institutions in this geographical area, by creating a space for meeting and talking, like this proposed workshop. We also plan to invite a few internationally recognized leaders in these fields from the US and Europe to teach the mini-courses or deliver survey lectures.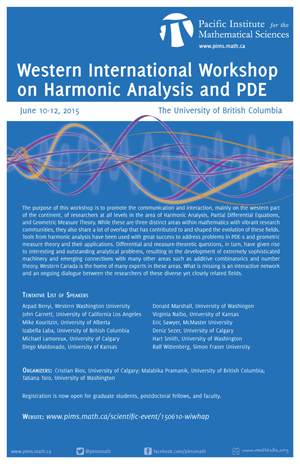 Schedule:
The Workshop will run for three days: June 10-12 2015.
**One minicourse will be offered by Eric Sawyer
**Senior participants will present short talks about their research, with the intent of reaching graduate students and junior researchers.
**There will be networking time allocated for participants to share common interests and deepen research topics presented during the talks.
Organizers:
Cristian Rios (Organizing Committee Chair), University of Calgary
Malabika Pramanik, University of British Columbia
Tatiana Toro, University of Washington
Other Information:
Call for Graduate & PostDoctoral Presentations
The Workshop is welcoming proposals for short talks by graduate students and Post-doctoral Fellows in any of the above fields. Talks are intended to be 20 minutes long with Q and Q periods after the presentation. If you are interested in presenting, please fill in the form here. All proposals are due by May 8th and the organizers will contact successful participants. 
Funding Assistance for Junior Participants
We have limited amounts of funding assistnace for non-local graduate students (MA, Phd) and Postdoctoral Fellows wishing to attend this workshop. Please send us an email with the following details: Your full names; Current Institution; Level of study; Current Supervisor; A statement on how the workshop will further your current research goals. Funding requests must be received no later than May 19th. 
Location:
Earth Sciences Building, 2207 Main Mall
*Check-in in the Atrium
*All session in Room 2012 
Registration:
Rgistration for this event is now closed.
Accommodation Options: 
On Campus 
•St. John's College:
Prices vary by room type: Private single rooms: These are basic single rooms with private shower; no coffee maker, bar fridge or TV. Private queen rooms:private washroom with shower, telephone, television, coffee maker, bar fridge and data port (an Ethernet cable is required).  Other College facilities and services are available to guests, including coin-operated laundry and common kitchens. Pay parking is available across the street in the West Parkade. Breakfast is served Monday through Friday, and Continental breakfast basket is provided on Saturday and Sunday. Nightly rate $85-$132CAD. Please book and pay for your stay online at http://stjohns.ubc.ca/home/guest-and-meeting-room/reserve-a-guest-room/ or call the reservation office  at  604.822.6522 or email  sjc.reception@ubc.ca. 
•Walter H Gage Suites: 
Prices vary by rooms type. Private options include: West Coast Suites, One bedroom suites, Studios. Most suites include a telephone, flat panel TV, fully equipped kitchen (for West Coast Suites, One Bedroom and Studios only) and coffee service. Budget options include shared apartments or dorm/ hostel style. Internet is via a LAN/ Ethernet and a cable is required or can be purchased from the front desk. A complimentary continental breakfast is served daily at the Pacific Spirit Cafeteria. Nightly rate $33- $199CAD. Please select options, book and pay here. 
•Carey Centre: 
Budget priced single,queen, stuios and 1bedroom suites. Some rooms include a telephone,  TV and an equipped kitchen (Internet is via a LAN/ Ethernet and a cable is required or can be purchased from the front desk.  Breakfast is served daily, however breakfast tickets must be purchased ahead of time from the front desk. Please book and pay here. 
Local Information:
Local Transit: UBC is transit friendly and Bike friendly. Check information on arriving on campus by transit and getting transit tickets here; rent-a-bike to get round campus here.
Taxis: Taxis are available outside Walter H. Gage towers or by phone at 604-861-1111.
Local Weather: Check current conditions here.
Food Outlets and their hours of operations: On Campus; Off campus such as UBC Village; Point Grey Village and Westbrook village offer an array of restaurants and food outlets.
On Campus Activities: UBC recreation and UBC's top attractions.
Survey:
Please help PIMS to improve the quality of its events and plan for the future by filling out this quick and painless survey. 
Final scientific report available here.