PIMS Summer School on The Economics and Mathematics of Systemic Risk and the Financial Networks
Start Date:

07/21/2014

End Date:

07/25/2014
Location:
University of British Columbia
Description:
Financial markets are not physical systems. The rules they operate are determined by regulation, and the operators try their best to influence and circumvent these regulations insofar as they thwart their own ends. Asset prices are modelled by stochastic processes, as if the randomness came from an outside source, but the markets themselves generate much of the noise. Risk is the downside of randomness. The program will focus on the way the markets generate and propagate risk, and what kind of regulation can mitigate it.
Organizers: 
Rene Carmona (Princeton University)
Ivar Ekeland (Université Paris Dauphine)
George Papanicolaou (Stanford University)
Summer School Format:
The summer school will comprise six courses of 3 lectures each. 
The school is targeted for graduate students and young researchers interested in the theme of the program, and who have some background in probability, stochastic calculus and applied mathematics. Prospective participants have to complete a application process (See below).
The six courses will be given by
Rama Cont (Imperial College, London) Channels of Contagion in Financial Systems 
Darrell Duffie (Stanford University) Risk Sharing in Over-the-Counter Markets.

Jean-Pierre Fouque (University of California, Santa Barbara) Diffusion Models for Systemic Risk
Paul Glasserman (Columbia University) Contingent Capital and Financial Networks
Jean Charles Rochet (Swiss Finance Institution) Financial Stability
Yuliy Sannikov (Princeton University) Economies with Financial Frictions: A Continuous Time Approach.
Summer School Program
The Final program is now available here 
Students accepted to the school will be sent background material and references a few months beforehand. Please review the registration process below.
Visitors: a number of senior visitors will be in residence at PIMS during July 2014, including Ivar Ekeland and Jean Charles Rochet. There will be seminars and other activities during that month.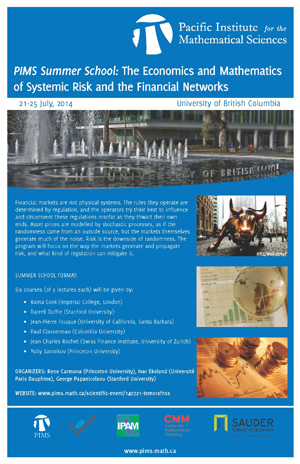 Other Information:
Summer School Venue:
Monday July 21- Friday July 25: Earth Sciences Building, 2207 Main Mall.
Monday July 21: 8:30AM Registration and Check in (ESB Atrium) 
**A map of campus is available here: Wayfinding at UBC 
Accommodation:
Accommodation will be provided at UBC's Gage Tower apartments (standard, single rooms in shared apartments); there will be partial travel funding based on availability. Applicants should have already received confirmation  on accommodation and registration processes. Check in details at Gage Towers are available here; Campus dining options are available here and a list of recreation activities can be found here
Travel documentation: 
If you are an international participant and require a visa to attend this summer school, you can find relevant information here.
Registration Process:
Registration for the summer school is now limited to accepted applicants only. Accepted applicants have been notified on how to register and pay for the summer school.
Local information: 
Local Transit: UBC is transit friendly and Bike friendly. Check information on arriving on campus by transit and getting transit tickets here; rent-a-bike to get round campus here.
Taxis: Taxis are available outside Walter H. Gage towers or by phone at 604-861-1111.
Local Weather:  Check current conditions here.
Food outlets and their hours of operations: On Campus; Off campus  (UBC Village; Point Grey Village and Westbrook village offer an array of restaurants and food outlets).
On Campus Activities: UBC recreation  and UBC's top attractions.
Workshop on Sytemic Risk: 
The summer school precedes a workshop of the same title. More information can be found here. Accepted summer school attendees are encouraged to attend and should email PIMS (ruths@pims.math.ca) to reserve a spot.
Survey:
Please help PIMS to improve the quality of its events and plan for the future by filling out this quick and painless survey.
Sponsor: