2014 Summer School in Probability
Start Date:

06/02/2014

End Date:

06/27/2014
Location:
University of British Columbia
Description:
There will be two 4-week courses:
Asaf Nachmias: Random walks on random fractals.
Elchanan Mossel: Influences and noise stability in product space.
as well as 3 short (3 lecture) courses:
Alison Etheridge, Stochastic models of evolution (June 5-9)
Allan Sly, Phase transitions for random constraint satisfaction (June10-13)
Ofer Zeitouni, Log correlated Gaussian fields and branching random walks (June 23-27)
There will also be opportunities for interested participants to present their own research. The courses are intended primarily for graduate students and postdoctoral fellows in Probability.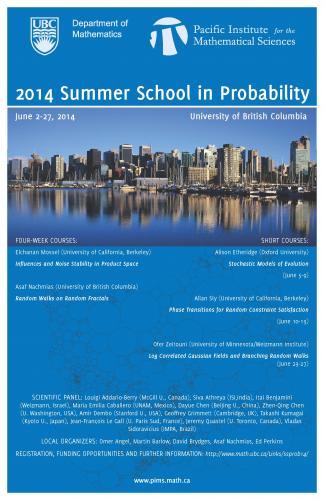 Other Information:
Location: UBC Earth Sciences Building
Registration: Registration for the summer school is now closed. We have received increased interest for the summer school and are now at capacity. 
Travel documentation:
If you are an international participant and require a visa to attend this summer school, you can find relevant information here.
Please visit the full Probabaility site here for FAQs. 
Survey:
Please help PIMS to improve the quality of its events and plan for the future by filling out this quick and painless survey.
Sponsor: