Algebraic Topology- Methods, Computation and Science 6 (ATMCS6)
Start Date:

05/26/2014

End Date:

05/30/2014
Location:
University of British Columbia
Description:
Applied and computational topology refers to the adaptation of topological ideas and techniques to study problems in science and engineering. A particular focus is on using invariants and methods of algebraic topology to understand large high-dimensional data sets. The further development of topological techniques for use in applications and the creation of new areas of application in the subject are amongst the goals of this workshop.
The workshop will bring together leading researchers in this emerging discipline as well as providing an opportunity for young mathematicians to get involved in it. In past years, the ATMCS conference has been very successful in providing a forum for cutting-edge research to be disseminated; attendance tends to represent a broad swath of the diverse research community which works in this area.
Confirmed speakers:
Omer Bobrowski
Peter Bubenik
Yuliy Baryshnikov
Gunnar Carlsson
Sarah Day 
Tamal Dey 
Jeff Erickson
Christopher Hoffman
Sayan Mukerjhee
Elizabeth Munch 
Amit Patel
Jose Perea
Raul Rabadan
Vanessa Robbins 
Michael Robinson
Radmilla Sazdanovic
Donald Sheehy
Vin de Silva
Paul Villoutreix 
Shmuel Weinberger
This is the 6th conference in a series on Algebraic Topology, its role in Computer Science, and its applications. The acronym changed interpretation for ATMCS 4 in 2010: before then, it was called Algebraic Topological Methods in Computer Science, and since then it has been Algebraic Topology: Methods, Computation and Science.
Previous conferences in the series are:
2001 ATMCS 2001, Stanford, CA, USA
2004 ATMCS 2004, London, Ontario, Canada
2008 ATMCS 2008, Paris, France
2010 ATMCS 2010 , Münster, Germany
2012 ATMCS 2012, Edinburgh, UK 
Workshop Format:
The workshop will feature lectures and discussion in the morning and afteroon.  Mid-Morning and Afternoon refreshments will be provided during the conference. A poster session will take place on Tuesday May 27th.
Workshop Dinner: 
There will also be a conference dinner  scheduled for the 28th. Participants are enouraged to attend and network at this event. Please see the registration section for payment details. 
Register for this workshop at the bottom of this page.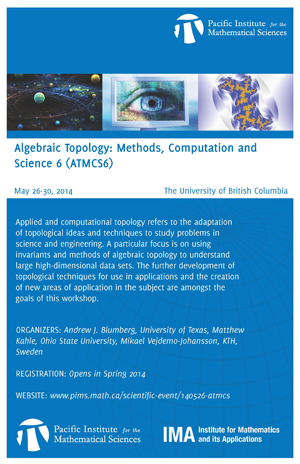 ATMCS 2014 is a joint PIMS-IMA Event.  
Organizers:
Andrew J. Blumberg, University of Texas,
Matthew Kahle, Ohio State University,
Mikael Vejdemo-Johansson, KTH, Sweden.
Other Information:
Conference Program
A working draft of the program is available here.
2014 ATMCS6 Participants can be found here.
Venue:
All of ATMSC6 sessions will occur either in the Earth Sciences Building  (ESB) or the Aquatic Ecosystems Research Labs (AERL). Please see the schedule below.
Mon May 26: 
8:35AM- 10:00AM: Registration and Check in located at the ESB Atrium
9:30 AM- 9:35AM: Welcome message by PIMS Director- ESB 1012 
9:30AM- 4:30PM: All Speaker Sessions- ESB 1012
Tue May 27: 
9:00AM- 12:30PM: AERL 120  
12:30PM- 4:30PM: ESB  1013
4:30PM- 5:30PM: ESB Atrium: Poster Session 
Wed May 28: 
9:00AM- 4:30PM: ESB1012
Thur May 29: 
9:00AM- 4:30PM: AERL 120
Fri May 30: 
9:00AM- 4:30PM:  ESB 1012
**Campus Maps are available here 
Call for Poster Presentations: 
Participants at the ATMCS6 Conference are encouraged to present their work at a poster session to be held on Tuesday May 27th at the Earth Sciences Building Atrium. Please sign up and indicate your poster title and abstract here. Submission deadline: May 15th, 2014.
Accommodation:
We strongly advise participants to stay close to the conference venue on campus and have made the following room blocks for the Algebraic Topology Conference.( We also have a preferred downtown hotel  for those wishing to explore the city while attending the conference) Please note that the special rates applied to the Conference will expire on April 23rd. Please make your reservations early!
On campus:  
Junior Participants (undergraduate, masters and PhD students) are encouraged to stay at the Gage Tower Apartments. These offer rooms in a shared apartment. These price-friendly rooms are suitable for discussions, networking with peers and are located next to university transit. (Select the "Budget rooms and shared apartment option" available here; Special rate ends April 23, 2014) 
Senior Participants (post-docs; professors, industry participants and speakers): We have made the following room blocks for senior participants: 
** Studio Suites at Gage Towers: Suite with double bed, private washroom, sitting area with telephone and flat-panel TV, fully-equipped kitchen and complimentary coffee service. Maximum 2 guests per suite. (Select and pay for the "Studio Suite" option here available here; Special rate ends April 23, 2014)
** 1 bedroom suite at Gage Towers: Suite with queen bed in bedroom, queen sofa bed in living room and private washroom. Features include telephone, flat-panel TV, fully-equipped kitchen and complimentary coffee service (Select and pay for the "1 bedrooms Suite" option, available here; Special rate ends April 23, 2014)
** Guest rooms at St John's College: Double or queen room with private bath: Dinner is served Sunday through Thursday; Breakfast is served Monday through Friday, and Continental breakfast basket is provided on Saturday and Sunday and the College's dining facilities. Book here or Call the  reservations desk at 1- 604-822- 6522. **Please mention the "PIMS Algebraic Topology Conference" when making your booking**.
Off Campus:
If you wish to be off campus with the opportunity to enjoy downtown venues along Robson Street, please book at the Listel Hotel, Vancouver's most "art-full" hotel. The Listel is our preferred off-campus hotel accommodation with good transit options to UBC. We have set aside a block of rooms at the Listel Hotel for the Algebraic Topology conference attendees. Rooms are available from May 25 to May 31, 2014 (with the ability to book the same discount rate 3 days prior to and 3 days after the workshop). PIMS guests can also enjoy complementary wine tastings every evening between 5 and 6pm. Please factor in transit times to the conference venue in your daily plans. (PIMS booking Promo code PIMSAT)
Graduate Student Travel Grants:
We have completed our selection of travel grants and notified students of funding. If you had applied and have not received a response, please email us at atmcs@appliedtopology.org . 
Travel documentation:
If you are an international participant and require a visa to attend this conference, you can find relevant information here. 
Registration:
Registration for this event is now open. Please sign-up and register for this event by creating your PIMS account and selecting the ATMCS6 Event. 
Faculty: $50 
Post graduate and graduate students: $40  
Invited Speakers: $35
Conference Dinner: $50
Taxes will charged at 5%. 
Payment must be made via Credit Card; PIMS will not accept bank transfers. Registrations are non- refundable on cancellations made after May 16th, 2014.
Registration has been extended and will be closed Friday May 23rd, 2014..
Local information: 
Local Transit: UBC is transit friendly and Bike friendly. Check information on arriving on campus by transit and getting transit tickets here; rent-a-bike to get round campus here.
Taxis: Taxis are available outside Walter H. Gage towers or by phone at 604-861-1111.
Local Weather:  Check current conditions here.
Food outlets and their hours of operations: On Campus; Off campus  (UBC Village; Point Grey Village and Westbrook village offer an array of restaurants and food outlets).
On Campus Activities: UBC recreation  and UBC's top attractions.
Survey:
Please help PIMS to improve the quality of its events and plan for the future by filling out this quick and painless survey.
This workshop is supported by PIMS CRG: CRG in Applied, Algebraic and Geometric Topology (2014-2018)
Sponsor: