Symmetry, Methods, Applications and Related Fields
Start Date:

05/13/2014

End Date:

05/16/2014
Location:
University of British Columbia
Description: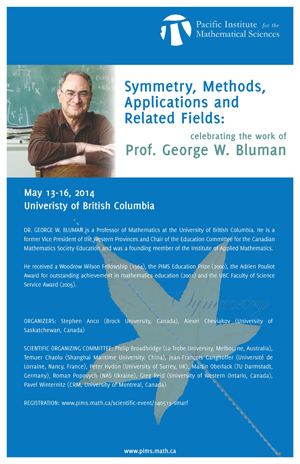 A preliminary copy of the abstract can be found here. 
Organizers:
Stephen Anco (Brock University, Canada)
Alexei Cheviakov (University of Saskatchewan, Canada)
Scientific Organizing Committee:
Philip Broadbridge (La Trobe University, Melbourne, Australia)
Temuer Chaolu (Shanghai Maritime University, China)
Jean-François Ganghoffer (Universite de Lorraine,Nancy France)
Peter Hydon (University of Surrey, UK)
Martin Oberlack (TU Darmstadt, Germany)
Roman Popovych (NAS Ukraine)
Pavel Winternitz (CRM, University of Montreal, Canada)
Greg Reid (University of Western Ontario, Canada)
Other Information:
Program:
A copy of the updated prorgam is available here.
Please note that there will be light refreshments each morning and not breakfast as was previously mentioned by the organizers. 
Location:
Earth Sciences Building, room 2012
The Earth Sciences Building can be located here. 
Registration: 
Registration for this event is still open. Please SIGN UP and pay for the event through the log-in tab at the bottom of this page. Payment must be made via Credit Card;PIMS will not accept bank transfers. Registration fees include conference material, light refreshments each morning, and coffee breaks throughout the days.There will be a separate dinner in honor of Prof. Bluman on Wednesday May 14th. All participants are encouraged to attend.
Accommodation:
We strongly recomend that participants stay on campus due to proximity to the conference venue.
For Junior Participants:
We have reserved rooms at Walter Gage Towers On UBC campus: These are 'simpler' undergraduate style rooms, six rooms per 'apartment' at an affordable rate of $45/ night. A continental breakfast  is available each morning with these rooms.**The room block is for a check in for May 12 and  Check out on May 17th only. Please note nights requested  before or after these dates are subject to availability. **Accommodation request deadline for Gage rooms isApril 3rd, 2014. Unbooked rooms will be released to the public there after. **The Accommodation reservation code is available here.
For Senior Participants: 
**Walter H Gage Towers offers single rooms, 1BR suites and hotel Suites for UBC Guests.  UBC Conferences and Accommodation. Bookings include a continetal breakfast each morning.
**St. Johns College: Double or queen room with private bath: Dinner is served Sunday through Thursday; Breakfast is served Monday through Friday, and Continental breakfast basket is provided on Saturday and Sunday and the College's dining facilities. Call the  reservations desk at 1- 604-822- 6522. 
Off Campus Accommodation:
Feel free to make personal arrangements should you prefer to be off campus.
Full Site
For more information on the conference, please visit the full site here.
Survey: Please help PIMS to improve the quality of its events and plan for the future by filling out this quick and painless survey.