PRIMA Conference on Geometric Analysis
Start Date:

07/20/2010

End Date:

07/30/2010
Location:
University of British Columbia
Description:
The program consists of three mini-courses (4 hours each course) in the first week, followed by a workshop in the second week.  Focuses will be on recent developments in geometric analysis. The topics will include: 
-Geometric flows: Ricci flow, Mean Curvature Flow, Willmore Flow
-Kahler-Einstein metrics, constant scalar curvature metrics and Kahler-Ricci flow
-Mathematical General Relativity Theory
-Manifolds with positive curvature
-Minimal submanifolds and related topics
Schedule:
Mini-courses, July 20-23, 2010
| | | | | |
| --- | --- | --- | --- | --- |
| | Tues (Jul 20) | Wed (Jul 21) | Thu (Jul 22) | Fri (Jul 23) |
| 11:00-12:00 | Schoen | Schoen | Schoen | Ballmann |
| 12:00-13:30 | Lunch | Lunch | Lunch | Lunch |
| 13:30-14:30 | Tian | Tian | Tian | Tian |
| 14:30-15:00 | Coffee | Coffee | Coffee | Coffee |
| 15:00-16:00 | Ballmann | Ballmann | Schoen | Ballmann |
Workshop, July 26-30, 2010
Mon (Jul 26)

Tues (Jul 27)

Wed (Jul 28)

Thu (Jul 29)

Fri (Jul 30)

09:30-10:30

Lott

Kuwert

Viaclovsky

Sesum

Mabuchi

10:30-11:00

Coffee

Coffee

Coffee

Coffee

Coffee

11:00-12:00

Topping

Marques

Han

Mochizuki

Lamm

12:00-13:30

Lunch

Lunch

Lunch

Lunch

13:30-14:30

Mueller

Neves

*Hiking -
Grouse
Mountain*

Streets

14:30-15:00

Coffee

Coffee

Coffee

15:00-16:00

Naber

Corvino

 Min-Oo
Venue: Frederic Lasserre Building (LASR), Room 102
Address: 6333 Memorial Road, UBC, Vancouver
Other Information:
Registration
If you plan to attend the conference, please complete the registration form by following the register link at the bottom of the page. When you are done with registration, a SIGN UP button will show up. Press the button and you will be redirected to the page where you are asked to pay the registration fee by credit/visa card. The registration fee is $53.
Financial Support
A limited amount of financial support (i.e. travel and accommodation) is available for young researchers and graduate students. Deadline for the application of financial support has passed and we no longer accept application now.  Selected students will receive an offer before May 31, 2010. Only successful applicants will be contacted.
Student Accommodation
Students will be provided a mixture of single / twin bedroom at Original Houses, Totem Park Residence on the UBC campus (2525 West Mall, Vancouver, BC) starting on Monday, July 19th, and departing on Saturday, July 31st. For further information regarding check-in procedure and facilities, please obtain a copy of Totem_Info.pdf from the Downloads section above. A UBC campus map is also available there. Totem Park Residence is located in box J2. Please note that breakfast will be provided during your stay at Totem Park Residence. Breakfast tickets are available at the check-in frontdesk.
Note: A detailed UBC Campus Map with all building names is also available to download.
Hotels:
There are many hotels available in Vancouver that may be able to accommodate you during the workshop. Here are a few selections:
On-campus
1. St. John's College
2111 Lower Mall
Vancouver, BC, V6T 1Z4
Phone: (604) 822-8788
Price: $50 - $128 plus 13% tax
Quiet, comfortable and well-appointed guest rooms for academic visitors to UBC.
2. Green College
6201 Cecil Green Park Rd.
Vancouver, BC, V6T 1Z1
Phone: (604) 822-8660
Price: $58 - $126 plus 13% tax
Self-contained rooms with single, double, or queen bed, private washroom, and internet access. Guest House Rooms have cable television as well as a mini-fridge, coffeemaker with a selection of coffee and teas, local telephone, internet access, hairdryer and radio alarm clock
3. Carey Centre
55920 Iona Drive
Vancouver, BC, V6T 1J6
Phone: (604) 224-4308
Price: $73 - $115
SHORT STAY Accommodations are available in single or queen rooms with en-suite bathrooms and linen service. Local phone service and high speed internet are included. Flat screen televisions are available in some units. Parking is $5/day. A furnished STUDIO APARTMENT (545 sq ft) and a furnished ONE BEDROOM APARTMENT (660 sq ft) are also available for short stay rental.
4. Triumf House
5835 Thunderbird Blvd.
Vancouver, BC, V6T 2L6
Phone: (604) 222-1062 / (604) 222-7633
Price: $110 - $175 plus 15% tax
34 room boutique guest house located on the UBC Campus. All rooms have their own private ensuite bathroom, high speed internet access, flat screen cable TV, telephones with voice mail, radio/alarm clock, toiletries; some suites have kitchenettes.
5. Conferences and Accommodations at UBC
5961 Student Union Blvd.
Vancouver, BC, V6T 2C9
Reservations: 1-888-822-1030, (604) 822-1000
Price: $43-59 (room), $139 (studio suite), $243 (West Coast Suite) plus tax
Hotel apartment suites for visitors. Economical Standard Suites and Rooms in Shared Apartments are available for short-term rental from mid-May until late August. Pacific Spirit Hostel also has rooms with a shared washroom on each floor ($35-70).
Off-campus
1. Park Inn & Suites Vancouver
898 West Broadway
Vancouver, BC, V5Z 1J8
Ph: 604-872-8661
fax: 604-872-2270, or toll-free
800-663-5403
Rates start at CAD$89 single/double. Complimentary
high-speed wireless Internet, bottle of water and newspaper as well as
local and 800# calls. All rooms have a balcony.
URL: http://www.parkinn.com/vancouverca
2. Holiday Inn Vancouver Centre
711 West Broadway
Vancouver, BC, V5Z 3Y2
Ph: 604-707-1939
Rates start at CAD$139 per night, single/double.
URL http://www.ichotelsgroup.com/h/d/hi/1/en/hotel/yvrbw
3. Shaughnessy Village
URL: http://www.shaughnessyvillage.com
They offer good deals (e.g. $1,200 for 20 nights including free
breakfasts), but the size of bedroom is about 300-400 square feet.
These rooms are suitable for students who aim for economy hotel rooms
for their stay.
Survey: Please help PIMS to improve its operations and plan future events by filling out our (quick and painless!) online evaluation survey.
Photographs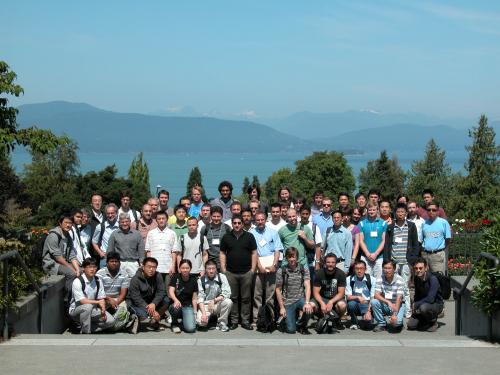 Participants of the PRIMA conference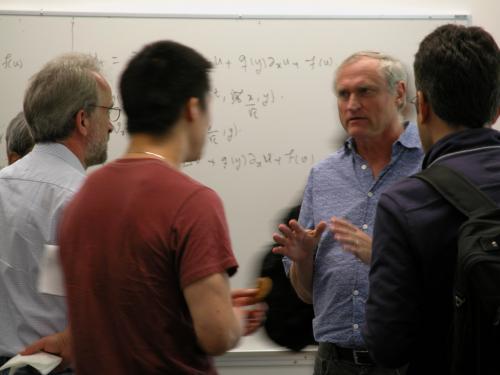 Mini-course speaker: Prof. Richard Shoen
Final Scientific Report available here