PIMS Lunchbox Lecture: Mason Porter
Speaker(s):
Mason Porter, UCLA
Location:
University of Calgary
Description:
I'll give an introduction to modelling contagion processes on networks. I will discuss both biological and social contagions, and I will focus especially on the latter. I will consider what subjects like dynamical systems, statistical physics, and computational algebraic topology can tell us about social influence on networks, measuring the spread of contagions, and when they follow an underlying space and when they skip around.
http://people.maths.ox.ac.uk/porterm/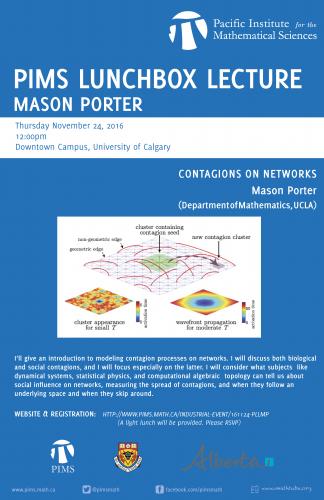 Other Information:
Location:
Downtown Campus, University of Calgary
Room 626
Lecture Time: 12:00pm
Sponsor:



The Pacific Institute for the Mathematical Sciences is grateful to  Alberta Advanced Education and Technology, and the University of Calgary for their support of this series of lectures.