2016 Graduate Mathematical Modelling in Industry Workshop
Start Date:

08/07/2016

End Date:

08/13/2016
Location:
University of British Columbia
Description:
A photo gallery of this event is available on mathtube.org
The Mathematical Modelling in Industry Workshop for Graduate Students is designed to provide graduate students and qualified advanced undergraduates with first-hand experience in industrial research in the mathematical sciences. This one week event in Vancouver will focus on team work to tackle specific projects in mathematical and statistical modelling of industrial process, with an emphasis on the development of young researchers.
This year's workshop is a joint project of Le Centre de recherches mathématiques, the Fields Institute, and the Pacific Institute for the Mathematical Sciences, and funded through NSERC's support of the Institutes Innovation Platform. Students participating in the graduate modelling workshop are encouraged to apply for the 2016 Industrial Problem Solving Workshop in Toronto, scheduled for the following week of August 15-19.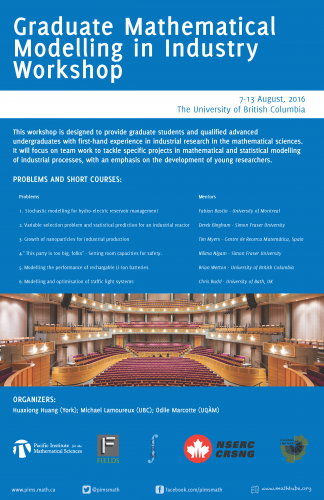 Schedule:
The event will start with a meet and greet on the evening of Sunday, August 7. The workshop starts first thing on the morning of Monday, August 8, and concluding on the afternoon of Saturday, August 13 at the PIMS offices on UBC campus in Vancouver BC. Short courses on mathematical modelling and use of scientific software for calculation and simulation will be held throughout the week, with a focus on applying to specific problems that arise in industrial settings. Team work on the problems and group interaction will to take place throughout the week. A wrap up on Saturday will include presentations of the work performed by each team.
Organizers:
Huaxiong Huang
Michael Lamoureux
Odile Marcotte
Other Information:
Problems and short courses:
Problems

   

Mentors
1.

 

Stochastic modelling for hydro-electric reservoir management
Fabian Bastin - University of Montreal
2. Variable selection problem and statistical prediction for an industrial reactor
Derek Bingham - Simon Fraser University
3. Growth of nanoparticles for industrial production
Tim Myers - Centre de Recerca Matemàtica, Spain
4. "This party is too big, folks" - Setting room capacities for safety.
Nilima Nigam - Simon Fraser University
5. Modelling the performance of rechargable Li-Ion batteries

  

Brian Wetton - University of British Columbia
6. Modelling and optimisation of traffic light systems

Chris Budd - University of Bath, UK
Please also see the complete project descriptions (pdf) for each project.
Accommodation and travel:

All non-local participants will be provided with housing at UBC for the duration of the workshop, and a food allowance. Travel support will be provided to successful applicants.
Previous PIMS/IMA and IMA/PIMS/CIMAT graduate modelling camps:
Local Information:
Directions to UBC
: Directions from the Vancouver airport (YVR) to UBC are available 
here
.
Local Transit: UBC is transit friendly and Bike friendly. Check information on arriving on campus by transit and getting transit tickets here; rent-a-bike to get round campus here.
Taxis: Taxis are available outside Walter H. Gage Towers and Ponderosa Suites or by phone at 604-861-1111.
Local Weather: Check current conditions here.
Food Outlets and their hours of operations: On Campus; Off campus such as UBC Village; Point Grey Village and Westbrook village offer an array of restaurants and food outlets.
On Campus Activities: UBC recreation and UBC's top attractions. 
Parking on campus:Information is available on the website here: 
Event Evaluation:
Participants attending this event are requested to fill in the event survey online here.