PIMS Lunchbox Lecture: Krisztina Vasarhelyi
Speaker(s):
Krisztina Vasarhelyi,
IMPACT-HIV and SFU Health Sciences
Location:
University of British Columbia, Robson Square, Vancouver
Topic:
Systems Modeling for HIV Health Service Delivery
Description:
Public health program managers and policy makers are regularly faced with complex decisions that affect the health and well-being of the public. Mathematical models and operations research tools can be used to consider diverse interacting factors, such as the epidemiology and clinical aspects of a condition, delivery methods of health services, and constraints on budget and resources. Creating reliable, data-driven models that are tractable and useful for informing policy decisions requires close collaboration of stakeholders and mathematicians.
This presentation will describe a health systems modeling project to inform the delivery of HIV health services in Vancouver, which illustrates the promise, challenges and rewards of cross-sector collaborations and offers possible avenues for the expanded use of modeling in public policy.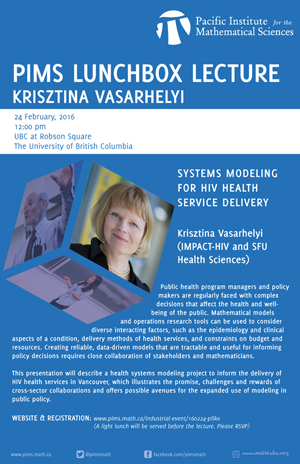 Other Information:
Time: 12:00pm 
**A light lunch will be served before the lecture. Please RSVP below.** 
Location: UBC at Robson Square, 800 Robson St., Room C485
Registration: Registration for this event is now closed.
**The next PIMS lunchbox lecture is on March 30th, 2016. Please RSVP for that event through the webpage here. 
Sponsor: