CIMAT-IMA-PIMS Math Modelling in Industry Workshop
Start Date:

08/02/2010

End Date:

08/11/2010
Speaker(s):
Christopher Bemis (White Box LLC, Minneapolis, MN)
Harvey Haugen Beechy (Industries, Beechy, Sask., Canada)
Michael Hofmeister (Siemens Corporate Technology, Munich, Germany)
Mariano Rivera Meraz (Center for Research in Mathematics A.C.)
Andreas Putz (Automotive Fuel Cell Corporation, Burnaby, British Columbia, Canada)
Raúl Quiroga-Barranco (Center for Research in Mathematics A.C.)
Location:
Guanajuato, Mexico
Description:
The IMA is holding a 10-day workshop on Mathematical Modeling in Industry. This event will take place at CIMAT in Guanajuato, Mexico. The workshop is designed to provide graduate students and qualified advanced undergraduates with first hand experience in industrial research.
Abstracts / Downloads / Reports:
Other Information:
Please visit the official website at
http://www.ima.umn.edu/2009-2010/MM8.2-11.10/
for further information.
Photograph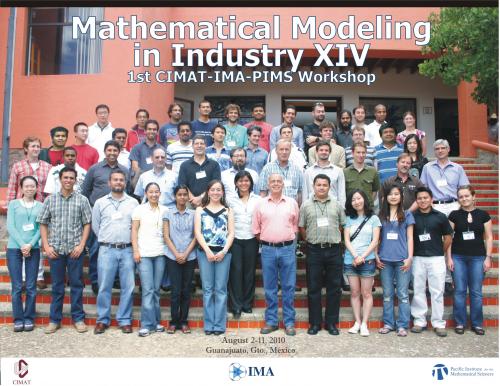 Participants of CIMAT-IMA-PIMS Math Modelling in Industry Workshop
Sponsor: