2022 Celebration of Women in Mathematics
Description:
PIMS- UBC is pleased to be hosting the inaugural PIMS celebration of Women in Mathematics on May 12! The event will be held in a hybrid format. To attend the event in person at UBC, go to Earth Sciences Building (ESB) - 2012. Details of the event are as follows:
Schedule: (all times Pacific)
10:00am-10:50am PIMS Network-Wide Colloqium by Matilde Lalín (U. Montreal).
(10 minute Break for refreshments)
11:00am-11:05am Welcoming From PIMS administrators
11:05am-11:35am Interactive Trivia Game
11:35am-11:55am Presentation on life of Maryam Mirzakhani
(5 minute break)
12:00pm-12:50pm Panel Discussion (Panel: Manuela Golban (U. Saskatchewan), Avleen Kaur (U. Manitoba), Deniz Sezer (U. Calgary), Rekha R. Thomas (U. Washington))
12:50-Closing remarks.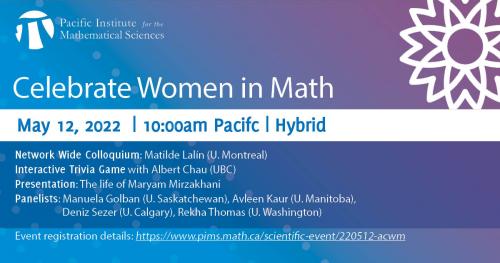 Video Montage Call for submissions:
If you are a woman or member of another gender-based minority group in mathematics, please consider contributing a short video recording to our montage by May 3rd, 2022.
For the content of the video(s):
The video will be shared at the PIMs event on May 12th, both with in person attendees and virtual attendees.
The video can be as simple as you like, e.g. recorded with a phone or computer.
You are welcome to record it individually or with a group.
Please keep your video between 10 and 20 seconds long.
Please begin with a statement similar to the following:
"Hi my name is ________ and I am a __________(e.g. Master's student, PhD student, PostDoc, Professor, etc..). I study ______."
You are welcome to include more details, if you would like to, after the opening statement.
Please separately record a video clip where you say the following:
"And You belong in math too!"
These separate clips will be turned into a compilation at the end of the video montage.
For sending your recording: