PIMS - UCalgary Geometric Analysis Seminar Series: Teemu Saksala
Date:

01/28/2022

Time:

14:00
Lecturer(s):
Teemu Saksala, North Carolina State University
Topic:
Reconstruction of a Manifold from Travel Time Data
Description:
Abstract: In this talk I will introduce several geometric data sets related to the distance function either on Riemannian or Finsler manifolds with boundary. I consider differences of these data sets, and for each of them I will provide geometric conditions that are sufficient to determine the isometry class of the manifold producing the data. This talk is based on joint works with Maarten V. de Hoop, Joonas Ilmavirta, Matti Lassas and Ella Pavlechko.

Bio: Teemu Saksala is an assistant professor at NC State University, Raleigh, North Carolina, USA who is working on geometric inverse problems arising from seismology. In this field, the general theme is to understand whether a geometric property in conjunction with some a priori information about the underlying geometric structure, is sufficient to determine the whole geometric structure. The isometry invariance is the natural gauge of these kinds of problems. Dr. Saksala got his PhD in 2017 at University of Helsinki, Finland. Prior to joining NC State he worked as a Simons postdoctoral fellow at Rice University from 2017-2020.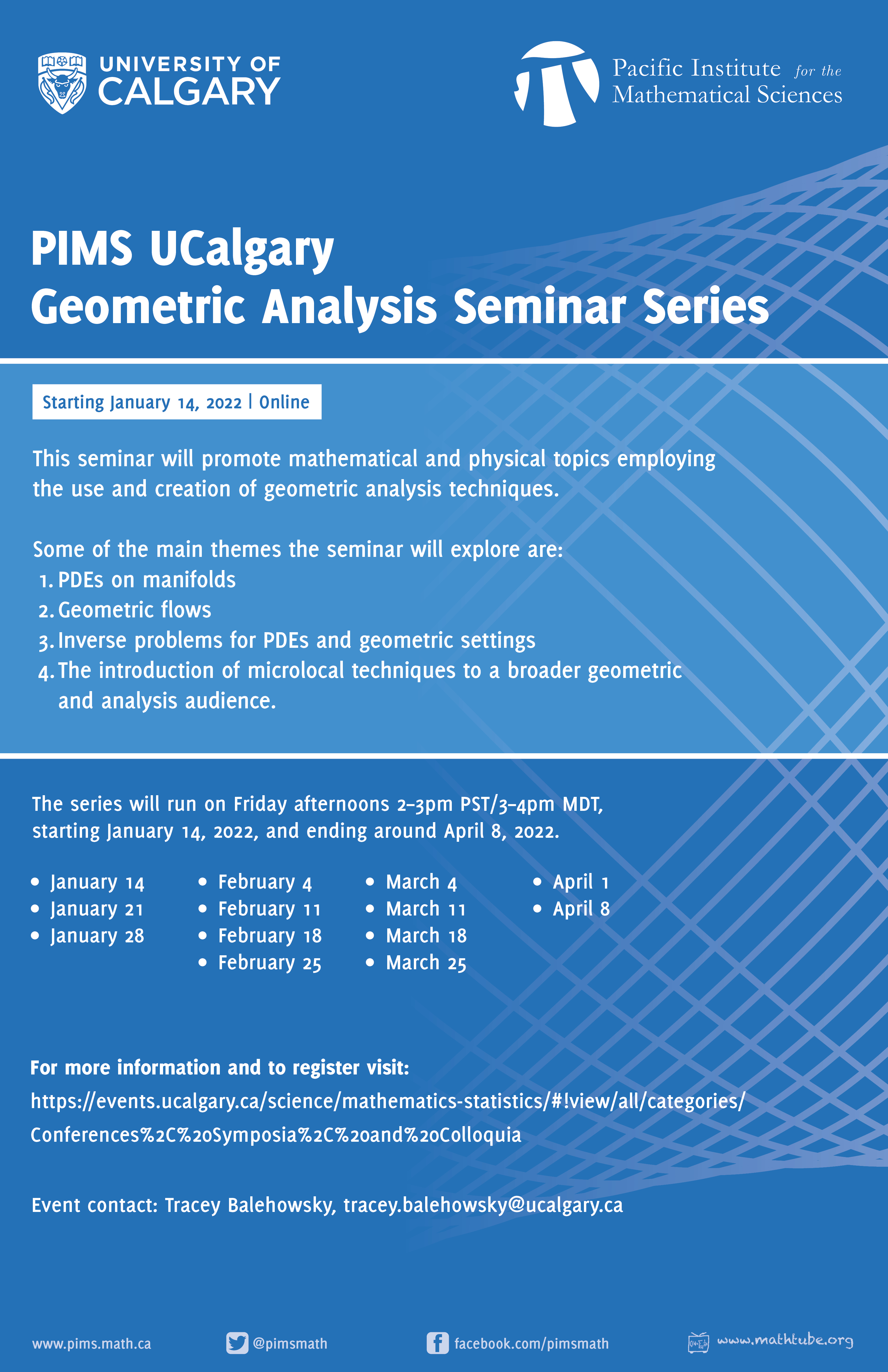 Other Information:
This seminar is available via Zoom. Registration is required. 
Time: 2–3pm PST (3–4pm MDT) 
-------
This seminar series will promote mathematical and physical topics employing the use and creation of geometric analysis techniques. Some of the main themes the seminar will explore are 1) PDEs on manifolds, 2) geometric flows, 3) inverse problems for PDEs and geometric settings, and 4) the introduction of microlocal techniques to a broader geometric and analysis audience.
The series will run on Friday afternoons 2–3pm PST (3–4pm MDT), starting January 14, 2022 and ending around April 8, 2022.
See more information and other dates in the series or contact Tracey Balehowsky, tracey.balehowsky@ucalgary.ca