PIMS Summer Public Lecture: Erika Camacho
Speaker(s):
Erika Camacho, Arizona State University
Location:
University of British Columbia
Topic:
Using Mathematics to help fight blindness
Description:
Computer (in silico) experiments in this area have given researchers invaluable insights and in some cases re-directed experimental research and theory. With mathematics and in silico experiments we will explore the experimentally observed photoreceptor death and rescue in retinal degeneration and provide a framework for future physiological investigations and potential ways to circumvent blindness.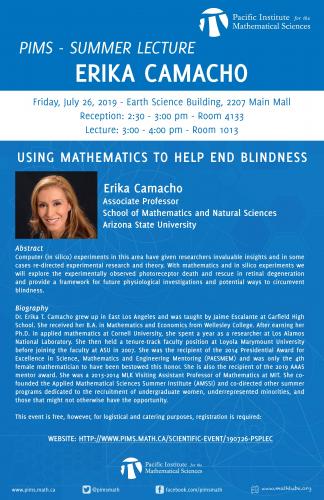 Speaker Biography:
Dr. Erika T. Camacho grew up in East Los Angeles and was taught by Jaime Escalante at Garfield High School. She received her B.A. in Mathematics and Economics from Wellesley College. After earning her Ph.D. in applied mathematics at Cornell University, she spent a year as a researcher at Los Alamos National Laboratory. She then held a tenure-track faculty position at Loyola Marymount University before joining the faculty at ASU in 2007. She was the recipient of the 2014 Presidential Award for Excellence in Science, Mathematics and Engineering Mentoring (PAESMEM) and was only the 4th female mathematician to have been bestowed this honor. She is also the recipient of the 2019 AAAS mentor award. She was a 2013-2014 MLK Visiting Assistant Professor of Mathematics at MIT. She co-founded the Applied Mathematical Sciences Summer Institute (AMSSI) and co-directed other summer programs dedicated to the recruitment of undergraduate women, underrepresented minorities, and those that might not otherwise have the opportunity.
Dr.Camacho published the first set of mechanistic models addressing photoreceptor degeneration. While experimental physiologists have been working on this area for decades, Dr. Camacho has provided a new framework through which experimentalists can examine retina degeneration and catalyzed a number of papers and investigations by other researchers. Her work examines the mechanisms and interactions of photoreceptors that are critical to their functionality and viability with the ultimate goal of stopping blindness. She uses analytical and computational approaches to uncover new mechanisms and principles that are key, test and suggest hypotheses, as well as explore potential treatments. She currently collaborates with experimentalists and experts on retina from the Vision institute of Paris, Massachusetts Ear and Eye Infirmary, and UMass Medical School and other mathematicians. Her other research is at the interface of mathematics, biology, and sociology.
Her leadership, scholarship, and mentoring have won her many national and regional recognition including the Great Minds in STEM Education Award, the SACNAS Distinguished Undergraduate Mentoring Award, the Hispanic Women Corporation National Latina Leadership Award, one of 12 Emerging Scholars by Diverse: Issues in Higher Education, one of the 40 Hispanic Leaders Under 40 Award, the Victoria Foundation Higher Education Outstanding STEM Award, the ASU Faculty Women's Association Outstanding Faculty Mentoring Award, ASU 2017 Commission on Status of Women Outstanding Achievement and Contribution Award, and many more. Her national service is exceptional and ranges from mentoring at all levels to Associate Editor for the Bulletin of Mathematical Biology to AMS Council at Large and many other national advisory boards.
She has been profiled and featured in multiple media outlets including VME/PBS's series Generation STEM, Local NPR (KJZZ 91.5) on Latinas in STEM Careers, Univision Nightly Spanish News in a two-part segment entitled "Erika Camacho's Inspirational Story", the SIAM News "The Intersecting Lives of Two Mathematicians in East L.A.", in three SACNAS News Feature Articles, Latino Perspectives Magazine "Camacho stands and delivers", and Voces magazine "I am the American Dream: Erika Tatiana Camacho, Ph.D.". She has been interviewed on CBS Evening News and NBC Nightly News as part of a segment in honor of her high school teacher Jaime Escalante, in PBS Arizona Horizonte for her HWC Leadership Award, and on NPR's KJZZ about the importance of Latinas in STEM careers in March 2017.
Registration 
This event is free, however, for logistical and catering purposes, please register through the link here.