[LECTURE 1 CANCELLED] PIMS-UBC Math Distinguished Colloquium: Marco Cuturi
Date:

11/29/2017

Time:

17:00
Lecturer(s):
Marco Cuturi, Université Paris-Saclay
Location:
University of British Columbia
Topic:
Generative Models and Optimal Transport
Description:
A recent wave of contributions in machine learning center on the concept of generative models for extremely complex data such as natural images. These approaches provide principled ways to use deep network architectures, large datasets and automatic differentiation to come up with algorithms that are able to synthesize realistic images. We will present in this talk how optimal transport is gradually establishing itself as a valuable tool to carry out this estimation procedure.
Biography:
Marco Cuturi is a leading researcher in optimal transport and its applications to machine learning and related areas. One of his recent results, so-called `entropy regularized optimal transport' has opened a way to practically solve optimal transport in challenging settings such as when dealing with high dimensional data, enabling the application of OT theory to machine learning and other problems in data sciences. He is a professor of statistics at CREST/ENSAE, Université Paris Saclay. He received his Ph.D. in 11/2005 from the Ecole des Mines de Paris. He worked as a post-doctoral researcher at the Institute of Statistical Mathematics, Tokyo, between 2005 and 2007, in the financial industry until 2008, and in the ORFE department of Princeton University until 2010 as a lecturer. He was an associate professor at the Graduate School of Informatics of Kyoto University between 2010 and 2016.
This Colloquium is a series of talks at UBC by Marco Cuturi. He will be giving two other lectures on Thursday, Nov 30 and Friday Dec 1, 2017.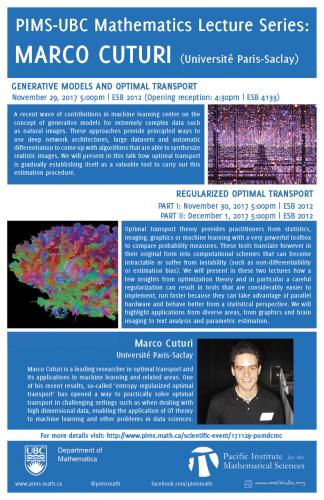 Other Information:
Location: ESB 2012
Time: 5:00pm
Light Refreshments will be served in ESB 4133 from 4:30pm- 5:00pm