2016 Niven Lecture: Mark Goresky
Date:

05/30/2016

Time:

13:00
Lecturer(s):
Mark Goresky, Institute for Advanced Study
Mark Goresky is a UBC alumnus and former UBC Math Department faculty member. He is most well known for discovering Intersection Cohomology Theory with Robert MacPherson. Intersection cohomology has had a profound impact on several areas of math, particularly representation theory and algebraic geometry.
Location:
University of British Columbia
Topic:
A glamorous Hollywood star, a renegade composer, and the mathematical development of spread spectrum communications.
Description:
During World War II Hedy Lamarr, a striking Hollywood actress, together with George Antheil, a radical composer, invented and patented a secret signaling system for the remote control of torpedoes.  The ideas in this patent have since developed into one of the ingredients in modern digital wireless communications.  The unlikely biography of these two characters, along with some of the more modern developments in wireless communications will be described.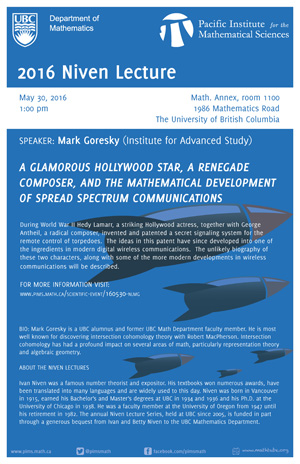 Other Information:
Location: MATX 1100
ABOUT THE NIVEN LECTURES
Ivan Niven was a famous number theorist and expositor; his textbooks won numerous awards, have been translated into many languages and are widely used to this day. Niven was born in Vancouver in 1915, earned his Bachelor's and Master's degrees at UBC in 1934 and 1936 and his Ph.D. at the University of Chicago in 1938. He was a faculty member at the University of Oregon from 1947 until his retirement in 1982. The annual Niven Lecture Series, held at UBC since 2005, is funded in part through a generous bequest from Ivan and Betty Niven to the UBC Mathematics Department.