PIMS-ULethbridge Distinguished Lecture: Ram Murty
Date:

05/08/2015

Time:

17:00
Lecturer(s):
Ram Murty,
Queen's
Location:
University of Lethbridge
Topic:
Measurements, Mathematics and Information Technology
Description:
In this talk, we will highlight the importance of measurement, and discuss what can and cannot be measured. Focusing on the measurement of position, importance, and shape, we will illustrate by discussing the mathematics behind GPS, Google and laser surgery. The talk will be accessible to a wide audience.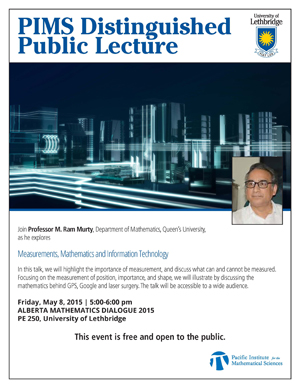 Other Information:
This talk is a part of the ALBERTA MATHEMATICS DIALOGUE 2015.
Location: PE 250, University of Lethbridge
This event is free and open to the public.
Final scientific report available here.