Frontiers in Biophysics Conference
Speaker(s):
Michael Hasselmo, Center for Systems Neuroscience, Boston University
Location:
University of British Columbia
Topic:
Grid Cells and the Dynamics of Entorhinal Cortex
Abstract: Grid cells and place cells are often called the brain's GPS since these neurons enable spatial localization within an environment. Their discovery was the basis for the 2014 Nobel Prize in Physiology or Medicine. Professor Hasselmo will discuss how oscillatory networks enable their function and how they play a key role in memory. 
Description:
Frontiers in Biophysics is a one-day conference designed to promote collaboration and networking within the quantitative biology community in the Pacific Northwest and beyond. Participants in all stages of their careers and from academic backgrounds such as math, physics, biology, chemistry, medicine, computer science, and engineering are welcome.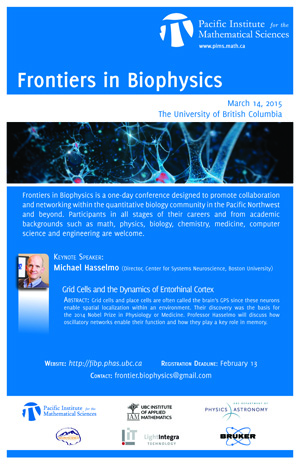 Other Information:
Ordinary registration is now closed but, but if you have been invited to register by the organizers, you may still do so with the button below. To register for the conference, please create a PIMS account then return to this page and click the signup button at the bottom of this page. In addition, there is a google form to complete as well. This is where you can submit an abstract for a talk or poster. If you are not submitting an abstract, please complete this form anyway as it has important information about food choices.
Registration includes lunch and light refreshments
Posters and talks from students encouraged
More information, including location and program, can be found at the official conference website:http://fibp.phas.ubc.ca
Please contact: frontier.biophysics@gmail.com for questions about the conference and registration.
Full scientific report available here.  
Sponsor: