Mathematics at the Frontier of Developmental Biology Workshop
Start Date:

07/02/2014

End Date:

07/04/2014
Location:
University of British Columbia
Description:
Developmental biology is undergoing a rapid expansion fueled by increasingly powerful genetic control of cell fate on the one hand, and by audacious endeavors to grow tissues and organs in vitro on the other. Such breakthroughs in the laboratory have opened up unprecedented opportunities for math-biology.  
The workshop has two aims: 
**To delineate outstanding mathematical questions in the field and construct a strategic research agenda; 
**To seek potential partnership among the participants with the goal of establishing collaborative research initiatives.
Workshop Format:

The two and a half day workshop will feature presentations from each of the speakers below. On Thursday July 3rd, there will be a reception and poster presentation at the workshop venue. All participants are expected to present posters (poster titles and details will be communicated closer to the date).
Confirmed Speakers
William M. Bement (Wisconsin)
Eric Cytrynbaum (UBC)
Emmanuel Farge (Institut Curie)
Rodrigo Fernandez-Gonzalez (Toronto)
Tony J. C. Harris (Toronto)
Leonid M. Pismen (Technion)
Guy Tanentzapf (UBC)
Kees Weijer (Dundee)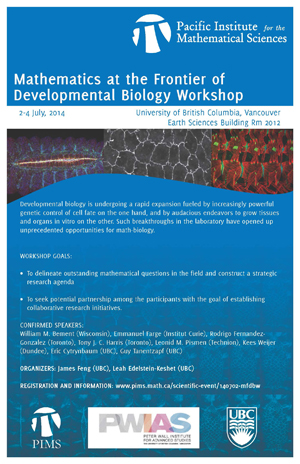 Other Information:
Location: UBC ESB Room 2012
Registration: There are no fees for this event, however registration is mandatory for participants. Participans are strongly advised to attend all 3 days. Please register at the bottom of this page by signing up for a PIMS account and then registering for this event. Registration closes June 27th, 2014 at 12:00pm PST.
Poster Presentation:
All registered participants are expected to present a poster on Thursday July 3rd. Please enter your poster title and abstract here.
Survey:
Please help PIMS to improve the quality of its events and plan for the future by filling out this quick and painless survey.
Sponsor: