Fluid Dynamics Summer School
Start Date:

07/23/2012

End Date:

07/27/2012
Location:
University of Alberta
Topic:
Fluid dynamics refers to the motion of liquids and gases as well
as more exotic deformable states of matter including plasmas, magma, slurries,
etc. Modern fluid dynamics research is a paradigm of multi-disciplinary
science, combining flow experimentation, computational simulation and
theoretical analysis. The combination of skills required to tackle the
outstanding fluid mechanical issues for realistic problems is
so diverse they cannot be taught in a standard undergraduate curriculum.
In the course of one week, students will learn
fundamental principles and methods in lectures while
working with leading scientists from the University of Alberta and
the University of British Columbia,
gaining hands-on experience with analysis software, numerical
simulations and laboratory experiments.
Topics cover nanoscale to astrophysical-scale phenomena with
applications to climate, the environment and industry. 
Description:
The summer school is intended for senior
undergraduates, Masters students and starting PhD students having a
strong background in mathematics, physics and/or engineering.
No prior knowledge of fluid dynamics is necessary. However, the students
should have taken at least one course in partial differential equations
by the summer of 2012.
Scholarships are available. Apply by April 30, 2012.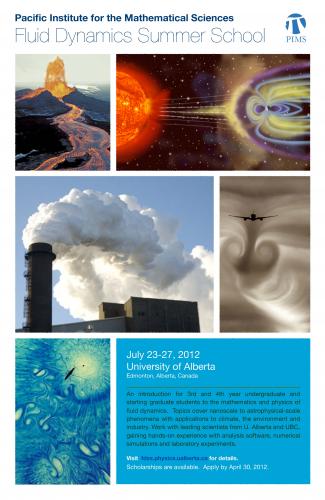 Sponsor: