A Taste of Pi Helps Mathematical Whiz Kids Discover New Passions at SFU
Ms. Tsou, a math teacher from St. John Brebeuf Secondary in Abbotsford, BC  wrote to PIMS:

In 2003, I established a mathematics enrichment program for our school. I incorporated various activities for gifted students, challenged students to excel and transformed them into critical thinkers and problem solvers. Among these activities, SFU's A Taste of Pi was one of the best programs for high school math achievers. Through participating in such an enrichment program, many students developed a strong passion for seeking advanced mathematical knowledge. Some even discovered that they could achieve much more than they ever thought possible in their journey of learning mathematics.

On behalf of BC schools and students, thank you for offering such a wonderful program.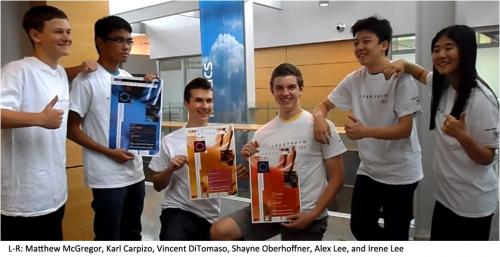 One of Tsou's  students, Shayne Oberhoffner, wrote about his experience with the A Taste of Pi for his school newsletter (see below).

On Saturday, October 5, more than 50 Math Whiz Kids from various BC high schools joined together for a day of high-level learning. The students were enthralled by the teachings on Functions and Chaos, followed shortly thereafter by reports on the invasive Lionfish. Lead by Dr. Ralf Wittenberg and Dr. Isabelle Cȏte, and seated in the state-of-the-art IRMACS Centre, the high-level learners were thoroughly engaged by the multi-media presentations.

The first lesson of the day, "Functions and Chaos", was presented by Dr. Wittenberg and engaged the students through the introduction of new procedures and problems. From the basics of linear functions, to the enormous frequency of repetitions of Chaos, the students were bombarded with information. After a brief respite, complemented by a refreshment table and a most needed stretch, the students returned to their seats in the IRMACS Centre's auditorium, where Dr. Cȏte awaited them. One of the students introduced Dr. Cȏte, and the lessons were back under way. Now graphs of a different orientation were brought into play. The Red and Common Lionfish are an introduced species, and are now living in the tropics: one of the most beautiful places on Earth.

Unfortunately, these beautiful creatures are causing horrendous damage, and it was up to Dr. Cȏte to help fix it. After years of work in the southern hemisphere, there are now plans set in motion to control the Lionfish. All in all, a taste of Pi is an amazing opportunity for students to expand their current knowledge and discover new passions.