PIMS - BC Data Colloquium Series: Eldad Haber
Speaker(s):
Eldad Haber, UBC
Topic:
Deep Neural Networks Meet Partial Differential Equations
Description:
In this talk we will explore deep neural networks from a dynamical systems point of view. We will show that the learning problem can be cast as a path planning problem with PDE constraint. This opens the door to conventional Computational techniques that can speed up the learning process and avoid some of the local minima.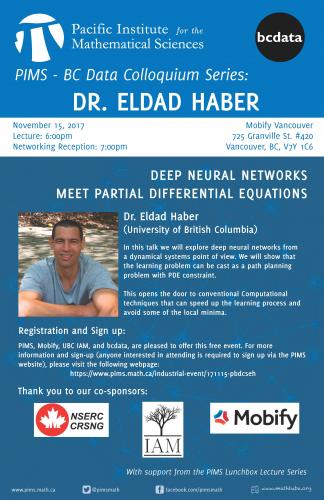 Organizers:
Brian Wetton, UBC
Other Information:
Location:
Mobify Vancouver
725 Granville St #420,
Vancouver, BC V7Y 1C6
Lecture: 6:00pm- 7:00pm
Networking Reception: 7:00pm -8:30pm 
Registration and Sign up:
Registrations for this event are now closed.
If you registered and wish to withdraw, please send an email to the PIMS Program Manager at ruths@pims.math.ca.  
Sponsor: