PIMS 20th Anniversary Celebration at the University of Manitoba
Date:

04/29/2017

Time:

12:30
Lecturer(s):
Keynote Speaker:
John Mighton, Founder of JUMP Mathematics Named a Schwab Foundation Social Entrepreneur of the Year, an Ernst & Young Social Entrepreneur of the Year for Canada, an Ashoka Fellow, an Officer of the Order of Canada, and has received three honorary doctorates. John is also the recipient of the 10th Annual Egerton Ryerson Award for Dedication to Public Education.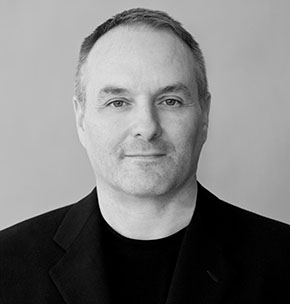 Location:
University of Manitoba
Topic:
Strengthening Mathematics Education Connections Across the K-13 Spectrum
Description:
What:
Keynote Speaker, panel discussion, breakout workshops on various math education topics at all levels, and a time to mix and mingle with refreshments.
Panel Discussion by:
Ian Donnelly, Mathematics Consultant, Manitoba Education and Training
Robert Craigen, Professor, Department of Mathematics, University of Manitoba
Michael Lukie, Assistant Professor, Faculty of Education, University of Winnipeg
Anna Stokke, Professor, Department of Mathematics and Statistics, University of Winnipeg
Workshops:
Assessment for Learning: Successful Strategies for the Senior School Classroom - Lauren Hope, Fort Richmond Collegiate
Don't Study Harder, Study Smarter: Strategies for teaching students how to be better mathematicians through self assessment and test journaling - Kenneth Gordon, Sisler High School
Teaching the General to Connect to the Specific - Shannon Ezzat, University of Winnipeg, Department of Mathematics and Statistics
Fostering Student Metacognition and Personal Epistemology in the Mathematics Classroom Through the Pedagogical use of Mnemonic Strategies - Michael Lukie, University of Winnipeg, Faculty of Education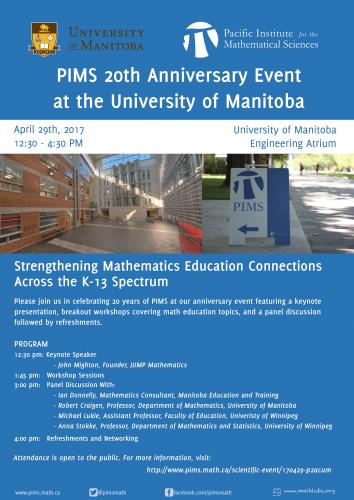 Other Information:
Date: April 29th, 2017, 12:30-4:30pm
Location: Engineering Atrium, University of Manitoba
 Register Here to Attend:  http://bit.ly/2oAw5Tw