Collaborations - Partnerships & Programs
PIMS plays an active leadership role in both the national and international mathematical communities. We also support various programs to strengthen those communities and the position of PIMS mathematical scientists within them.
National Collaborations
Within Canada, PIMS has partnered with le Centre de Recherches Mathématiques (CRM) and the Fields Institute for Research in Mathematical Sciences (Fields), the Banff International Research Station (BIRS) and the Atlantic Association for Research in the Mathematical Sciences (AARMS) to support a number of national initiatives and activities, including:


International Collaborations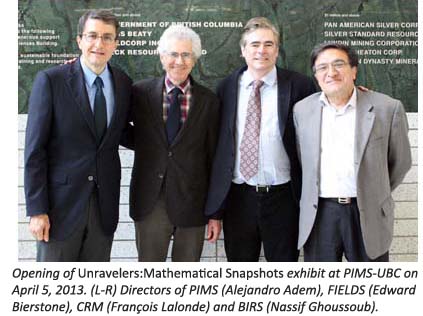 PIMS has developed a global reach by entering into associations with several international research organizations:
Collaborative Programs
Together with our partners, PIMS has developed various programs to help foster collaboration between mathematical scientists across our institutes.
Other Collaborations
In addition to the partnerships and programs above, PIMS has signed collaborative agreements with numerous institutes, to facilitate cooperation in scientific research, development of joint scientific activities, and exchange of researchers (including graduate students and postdoctoral fellows). These organizations include:
For details and opportunities related to one of these collaborations, please contact international@pims.math.ca.