PIMS Math to Power Industry (M2PI) Program Receives Federal Funding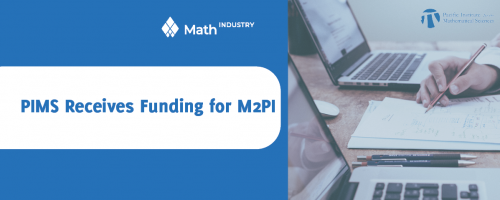 For the past two years, the Pacific Institute for the Mathematical Sciences has run the Math to Power Industry workshop – a professional development school positioned to benefit graduates and postdoctoral scholars in the mathematical sciences, particularly those enrolled in the 10 PIMS member institutions. This cohort-based training and job placement program focuses on projects in key industry sectors that help advance Canada's economy and also produce employable graduates.
PIMS is pleased to announce that the Prairies Economic Development, Canada (PrairiesCan) has committed funding for the M2PI program. This funding will allow PIMS to actively grow the number of highly qualified personnel (HQP) in Western Canada, and meet its commitment to building a competitive economy by supporting businesses, research, and innovation. The M2PI program is open to senior graduate students and postdoctoral scholars, and PIMS expects to place 25% of this group into internships, co-op programs, or full-time positions. Enrolment in the program is anticipated to exceed 180 HQP over the course of four years. 
The PIMS M2PI program aligns with several of the recommendations from Canada's Economic Strategy tables, particularly because the industry projects submitted in the M2PI program require data analysis and mathematical modelling, both of which transform business problems to algorithms. This process has been used by students working with partners such as Aerium Analytics, ATCO, IOTO International Inc. and Natural Resources Canada over the past three M2PI workshops. The work-integrated learning approach utilized by M2PI also aligns with the identification of technical and soft skills as the new currency: participants will build leadership and communications skills and learn to address biases.
The PrairiesCan funding will provide PIMS with the opportunity to sustain and upgrade the program, to provide computational infrastructure, and to meet in person. Funding will flow through the University of Calgary, and will be overseen by the PIMS Co-Director, Industry, Dr. Kristine Bauer. PIMS gratefully acknowledges the efforts of the M2PI organizing committee in producing this high-quality workshop.
Associated Links:
Math to Power Industry: https://m2pi.ca/
PIMS: https://www.pims.math.ca/
Prairies Economic Development Canada: https://www.canada.ca/en/prairies-economic-development.html
UCalgary Media Release
Media Contact:
For more infromation please contact: 
Dr. Kristine Bauer, PIMS Co-Director, Industry 
Ruth Situma, PIMS Program and Communications Manager