Math Circles Workshops for Elementary School Students 2022
Start Date:

09/26/2022

End Date:

11/21/2022
Location:
University of British Columbia
Description:
Students of grades 4 to 7 are invited to challenge and develop their thinking and creativity skills at the Math Circle Workshops.
This is an enrichment program for students organized by the faculty members of the Department of Mathematics at the University of British Columbia and the Pacific Institute for the Mathematical Sciences.
The goal of these workshops is to convey to students the importance of mathematics in the real world as well as how much fun mathematics can be. We want to get the students excited about mathematics and to give them a setting that encourages them to become passionate about this subject.
The Math Circle Workshops will commence on September 26, 2022 and will continue through April, 2023. The sessions take place on Monday evenings from 4:30 to 6:00 pm, at the SWING Building Room 205 located at: 2175 West Mall. View map
• There is a $5 fee (cash), per session, per child (parents are free).
• Parents are welcomed and encouraged to stay.
• To book any of these days or for more information send an email to: melania@pims.math.ca.
• Space is limited. You need to book the sessions you will like to attend. Each session is different and independent from previous sessions.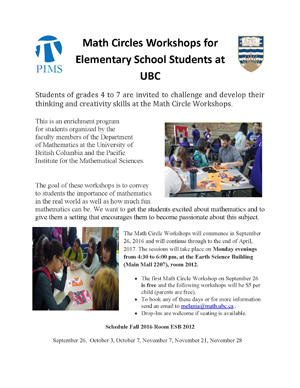 Schedule:
September - November 2022 Dates:
September 26
October 3
October 17
October 24
November 7
November 14
November 21