2021 Diversity in Math High School Math Camp: Indigenous Students
Start Date:

07/26/2021

End Date:

07/30/2021
Description:
This is the information and application page for the 2021 Diversity in mathematics Math Camp. This camp is for Indigenous students with grade 9 or 10 Mathematics.
Are you an Indigenous student in Grade 9 or 10 who would like to get a jump start on the journey towards mastering Calculus and unlocking the door to many STEM careers? Do you wonder if and how math would be helpful for a future career? Do you want to meet new friends who are also interested in pursuing STEM careers? This camp is for you!
The primary goal of this online camp is to provide an opportunity to a group of Indigenous students to explore their talents and develop a solid foundation of key mathematical concepts in preparation for success in the STEM stream of high school math courses.
Students will also be exposed to real-world applications of mathematics.
We wish to give the camp participants a glimpse of higher math and college life, and help them realize that university is a place for them. Space is limited.
Core Values of the Summer Camp:
Respect:
Camp participants are expected to respect all people involved in the Diversity of Mathematics summer camp, including themselves, other camp participants, teachers, the camp coordinators and university faculty and staff.
Participation:
The camp participants are expected to wholeheartedly participate in all camp activities. This includes listening to teachers, supervisors, and other presenters; completing all required work to the best of their abilities; and following and complying with all instructions given by the camp coordinator.
Attitude:
The camp participants are expected to maintain a positive and friendly attitude throughout the virtual camp.
Safety:
The Diversity of Mathematics summer camp is a safe and fun virtual meeting for all its participants. Any kind of unethical online behaviour such as cyber-bullying, online harassment, social media teasing, or behaviour that in any way threatens the safety of others and/or themselves will not be tolerated.
Attendance: The camp participants are expected to present themselves online on time, and attend all sessions with their faces visible to the camp coordinator and camp instructors. Participants who join after 9:30 AM Pacific, will be considered late. 
Facilitator:


Shawn Desaulniers: University of Alberta
Shawn Desaulniers is a Metis Canadian who grew up in Thunder Bay, Ontario. He received his Honours Bachelor of Science degree from Lakehead University in mathematics. After earning a doctorate degree in theoretical mathematics from the University of Alberta in 2008 he worked at Okanagan College and the University of British Columbia. In 2017 he returned to the University of Alberta where he primarily works with teaching candidates and on Indigenous student initiatives. In the past, he has helped to organize several conferences and workshops relating to mathematics and mathematical education, as well as problem-solving events and puzzle exhibits in BC and Alberta. 
Lead Instructor:
Gordon Naylor: Teacher - Maskwacîs Education Schools
Tansi! My name is Gordon Naylor and I teach high school math at Ermineskin Junior-Senior High School in Maskwacîs . I am a member of the Muskoday First Nation in Saskatchewan. I grew up mostly in Wabasca, Alberta, completing my high school diploma there.
Math was always something I found interesting to explore and use to explain things in the world around me. This passion led me to attend the University of Alberta - Augustana Campus to complete a Bachelor of Science with a major in Mathematics and Physics. I then attended the University of Alberta to get my Bachelor of Education in Secondary Mathematics Education.
I have only sought to teach in reserve schools to provide opportunities to young Indigenous students academically and through extracurricular activities. I have coached senior boys basketball for the past 6 years, so if you want to talk about basketball, let's chat!
Guest Speakers:
Hannes Edinger: Big River Analytics
Hannes received his undergraduate degree from UBC and master's degree in economics from Queen's University where was awarded the Scarthingmoor Prize for his work using computer simulations used to project First Nations populations in Canada. He is a member of the Métis Nation and the founder of Big River Analytics Ltd., which is a consulting company whose expertise in advanced statistical and econometric analysis has made available some of the critical tools of national-level statistical agencies to Indigenous communities.
Laura Gutierrez-Funderburk: Data Scientist
Laura is a data scientist for the Callysto project, a federally-funded initiative in Canada helping students and teachers learn data science skills (coding, data analysis, and data visualization). Laura has developed numerous data science teaching resources for students and teachers alike. She is experienced in facilitating data science learning experiences that celebrate diversity and are tailored to a variety of skill levels. Laura holds a Bachelor of Mathematics from Simon Fraser University (SFU). Her alma mater recognized her work in creating enriching learning experiences by awarding her the Terry Fox Gold medal. Laura enjoys sharing her enthusiasm for coding and problem solving, and hopes this will inspire students to explore mathematics and data science.
Peter Harrington: University of Alberta
Peter is a mathematical biologist who is interested in using analytical tools from mathematics to better understand ecological systems. He is a PhD candidate in Applied Mathematics at the University of Alberta, supervised by Mark Lewis. His research is focused on the dynamics of marine metapopulations, with a specific focus on the factors that affect the spread of sea louse parasites between salmon farms. As part of his research, he has led a field program monitoring sea lice on juvenile wild salmon in the Broughton Archipelago in British Columbia, located in the unceded territory of the Musgamagw Dzawada'enuxw.
Mavis Okeyere: University of Alberta
Mavis Okyere holds degrees in Mathematics Education from the University of Cape Coast, Ghana and belongs to the Asante tribe of Ghana. She is a doctoral student in Mathematics Education at the University of Alberta and researches how elements of students' cultures could be used to enhance the teaching and learning of various mathematics concepts, with a focus on the mathematical components related to Adinkra symbols of the Akans of Ghana.
Stephanie Varga: University of Alberta
Stephanie Varga is a second-year Ph.D. student at the University of Alberta. She is passionate
about engaging students with problems and problem-solving. The focus of her research is on
enabling the learning of mathematics with the help of computers. In 2019 she obtained her
Master's degree in Educational Psychology with specialization in Measurement, Evaluation, and
Cognition. As a certified teacher, she has taught mathematics at the secondary level in China
and Canada.
Application Instructions: 
This event is free, though an application is required. Students are requested to fill in the forms ealry as spaces in this program are limited.
1: Fill in the Application form before July 9, 2021
2: The organizers will confirm whether you have been selected to attend by July 12, 2021 
Click here to return to the 2021 DIM hompage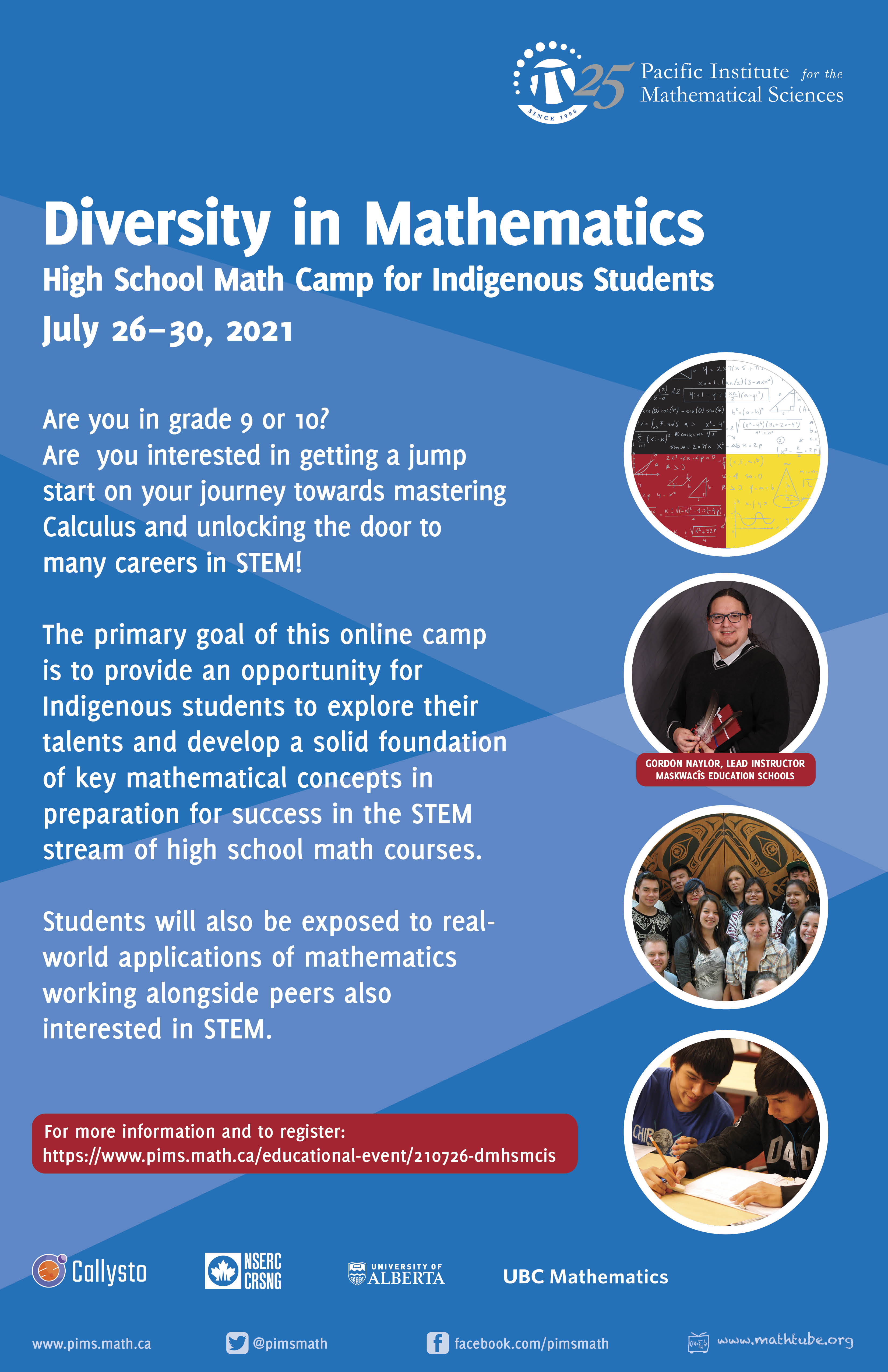 Organizers:
Shawn Desaulnier, University of Alberta
Gordon Naylor, Maskwacîs Education Schools
PIMS